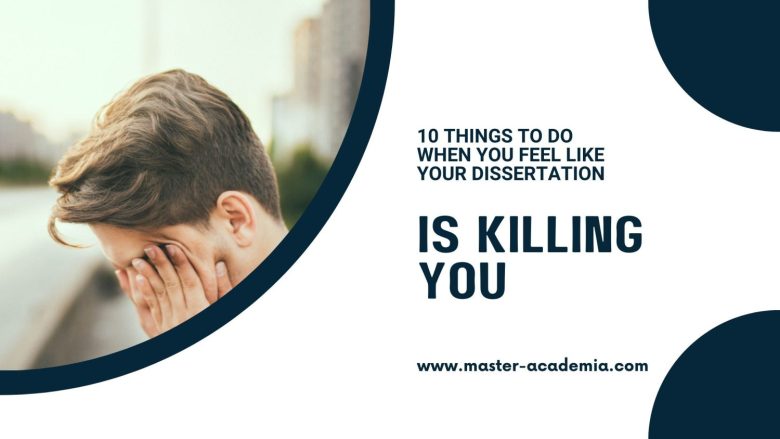 A surprising number of people google 'my dissertation is killing me' every month. Writing a dissertation is not an easy task: It can be tough, regardless of what level. If you feel defeated, discouraged or exhausted because of your dissertation, check out 10 concrete things you can do to improve your situation.
Contents
1. Identify the nature of your struggle
Okay, so you feel like your dissertation is killing you. But what does that mean?
Identifying the nature of your struggles is an important first step to improving your situation.
Are you struggling to develop the direction of your thesis, and find the right literature?
Do you have a hard time focusing, while you feel anxious about the upcoming deadlines?
Do you feel like you are working non-stop, and have no time for hobbies or friends?
Do you feel depressed and struggle to get up in the morning?
These are just a few examples. So take a minute or two and identify your individual struggle with your dissertation.
2. Reach out to your supervisor/s and peers
Supervisors are there to support you during your dissertation process. That's their job. Too many students struggle behind closed doors but pretend that everything is going okay during meetings with their supervisor/s.
If you struggle with your dissertation, take the courage to reach out to your supervisor/s. Supervisors can help you to overcome challenges in your dissertation in terms of content. They can also provide you with useful tips on concentrating, writing or maintaining a work-life balance.
The same is true for peers. Once you are open about your struggles, you may be surprised to hear that you are not alone. Connect with your colleagues and find ways to help each other.
3. Reach out to family and friends
Everyone who struggles with a dissertation has different needs. A common tendency, however, is to feel stressed and overwhelmed, and as a consequence to withdraw from social interactions. However, this is a bad idea.
When writing a dissertation, you need all the support you can get!
Maybe it helps you to plan fun outings with your friends in the evenings so that you have something to look forward to when you work on your dissertation during the day.
Or maybe all you need is a daily phone call with your mum or your best friend, to feel less lonely and know that someone is rooting for you.
Reach out to your family and/or friends and tell them how you feel. Be concrete about the type of support that you could benefit from.
4. Find an accountability partner
Beyond reaching out to peers, family and friends, it can be extremely useful to find an accountability partner.
An accountability partner is a person who keeps you to your commitment. This commitment could be, for instance, to write 500 words every day.
Accountability partners tend to be people who are in the same boat. This means, in our case, they are writing a dissertation as well. However, you do not need to limit your search for an accountability partner to other dissertation writers.
Furthermore, be creative. For example, if you don't know anyone else who is in a similar stage of your dissertation, or if you don't get along with your colleagues or peers, you could join an online writing group.
5. Look for professional support
When you struggle with your dissertation, just know one thing: you do not have to figure out everything by yourself!
Many universities have student councillors and other support mechanisms that can help to you overcome roadblocks and find suitable professional support. This can range from writing support, to coaching or mental health counselling.
There is no shame in asking for help! On the contrary, admitting that you struggle and looking for (professional) support is a sign of courage and strength.
Many students suffer from mental health issues, including loneliness, persistent sadness, depression, anxiety, or hopelessness. If you do, know that you are not alone and that there is support available.
6. Take a proper break
Our brains are simply not wired to work non-stop. Additionally, when we are stressed or anxious, our cognitive functions decline.
While it seems completely counter-intuitive to take a proper break when you are trying to write your dissertation, it can make a world of difference!
Taking proper breaks could entail a strict time to close your dissertation files every day at 6 pm to enjoy the rest of the evening. Or it could be taking a whole week off, including a change of scenery so that you can recuperate.
And I promise you: You will notice the difference in the way you can tackle your dissertation after taking a proper break.
7. Develop a daily routine that incorporates rest and fun
Humans thrive on routines. Take an energy audit to figure out when you are most creative or most productive throughout the day. Then, set up a daily routine around these times.
One key element of developing a daily routine is to schedule your breaks in advance. This can include short breaks to check emails or social media, or to stretch. It can also include longer breaks to take a walk, have lunch or meet a friend for coffee. You could also try the Pomodoro method.
When you know that your daily routine accounts for rest and fun, it is much easier to focus on your dissertation.
Remember, writing a dissertation is a marathon, not a sprint. Incorporate activities that give you energy, so you will not be completely exhausted at the end of the day.
8. Prioritise your health
Without a healthy body or mind, it is much harder to tackle a dissertation. Therefore, do what you can within your powers to prioritise your health:
Exercise provides your brain with oxygen, and can reduce anxiety and stress!
Try to eat healthily. A salad for lunch instead of a McDonald's burger will make you feel better and prevent that mid-afternoon slump!
Prioritise sleep for more efficient thesis writing. Proper sleep improves your cognitive capacities, can reduce anxiety and improve your quality of life!
9. Consider extending your studies
Some struggles are not solved by exercising, eating healthy or talking with your supervisor. While all these steps can help to improve your situation, they may not solve your problems.
So if you feel like your dissertation is killing you, check if there are any options to extend your studies to give you more time. For instance, to take a proper break to recover, or to reduce the number of hours you have to work on your dissertation every day.
Extending your studies could involve making use of a resit deadline a few weeks after the official submission deadline. It could also involve extending your studies for one more semester to finish your dissertation.
Extending your studies is not a sign of failure. Many students do it! There are simply so many expectations and requirements packed into a degree that it is sometimes hard to complete within the allocated time.
10. Consider quitting your programme
Last but not least, don't shy away from asking yourself the tough question: Is it worth it to push through to (try to) complete my dissertation, or would it be better to quit my programme?
This is of course a tough decision to make. However, if you feel like your dissertation is killing you, consider this option.
Nothing, and I repeat, NOTHING is more important than your health and well-being. Also not your dissertation.