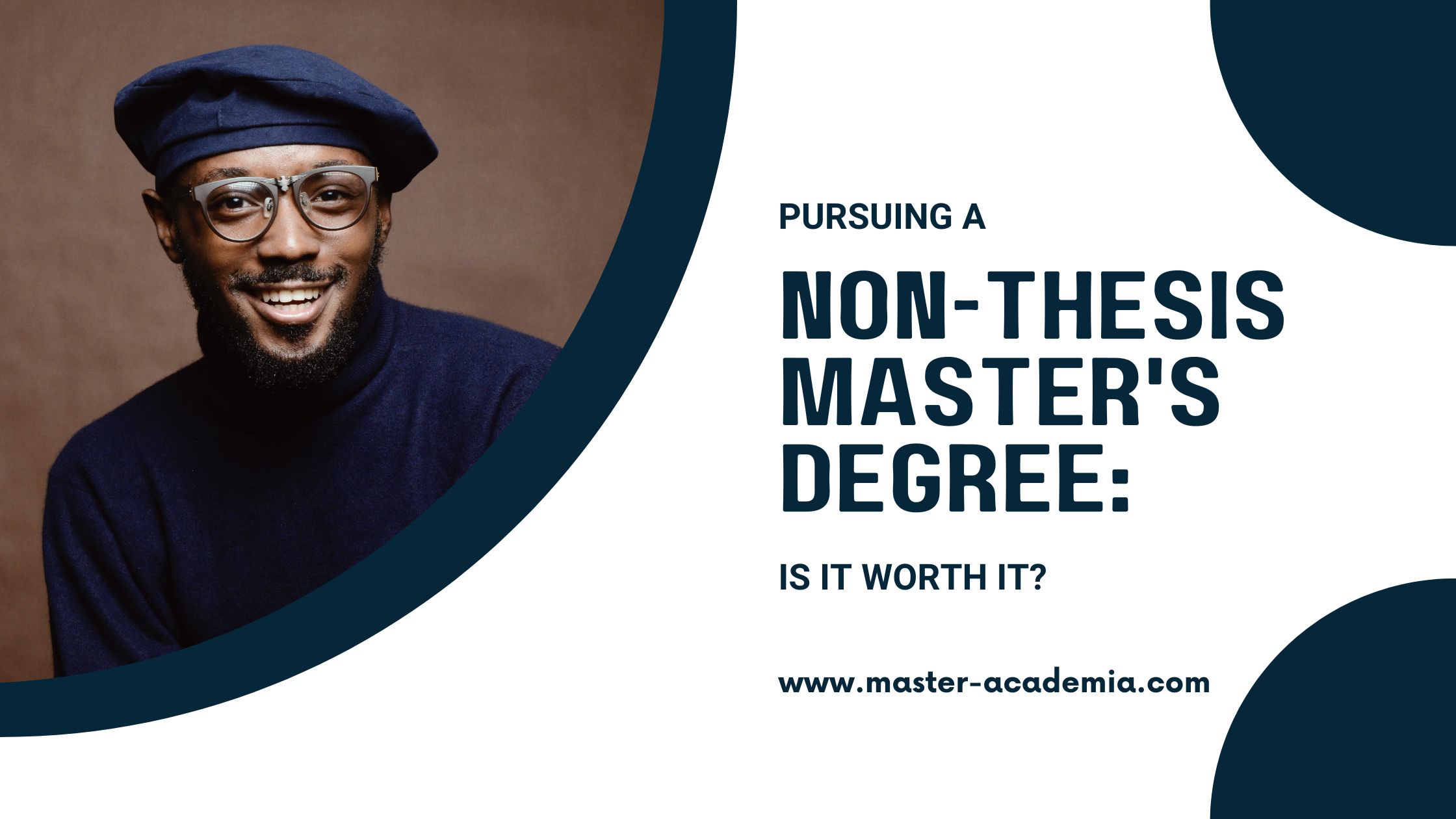 When navigating the world of master's programs, the plethora of choices can be bewildering. For instance, prospective candidates often grapple with questions regarding the nature and value of non-thesis master's degrees. To demystify these programs and provide clarity, delve into this guide to gain insights into commonly asked questions about non-thesis master's degrees and equip yourself with the knowledge needed to determine whether such a program aligns with your academic and career goals.
Contents
What is a non-thesis master's degree?
A non-thesis master's degree, also known as a coursework-based master's degree, is a graduate program where students typically do not need to complete a research-based thesis as a requirement for graduation.
These programs are often more focused on coursework, examinations, projects, or practical experience.
Instead of conducting original research and writing a thesis, students in non-thesis master's programs primarily take courses and complete a set number of credits or specific coursework.
Non-thesis master's programs are common in various fields, especially in disciplines where practical skills and knowledge are more important than conducting independent research. For example, non-thesis master's programs are often found in business administration (MBA), education (M.Ed.), public administration, healthcare administration, and some engineering and technology-related fields.
A non-thesis master's degree can be definitely worth it is you are aware of the differences and decide that this option best fits to your ambitions, learning style and future career prospects.
A non-thesis master's degree can undoubtedly be worth it, provided that you are well-informed about the distinctions between program types and have carefully concluded that this option aligns with your aspirations, preferred learning approach, and the potential pathways it offers for your future career.
The difference between non-thesis and thesis master's degrees
In contrast to a non-thesis master's degree, thesis-based master's programs require students to conduct original research, write a thesis based on their research findings, and defend their thesis in front of a committee of faculty members. The choice between a thesis and a non-thesis master's program often depends on the goals and career aspirations of the student and the requirements of the specific program or institution.
It's crucial to understand that a thesis-based master's degree isn't exclusively tailored for those aspiring to enter academia or pursue a Ph.D. In fact, a significant majority of individuals pursuing a master's program that includes a thesis ultimately find their paths in various professional fields.
Engaging in a thesis offers a unique opportunity to delve deeply into a specific subject, foster independence in research, and gain invaluable experience in project management. It involves conceiving an idea, structuring a project, and executing it, reflecting a multifaceted skill set.
A thesis-based master's degree serves as a testament to one's complex analytical thinking, as well as their unwavering determination.
However, it's important to note that this does not imply that non-thesis master's degrees are inherently inferior or misguided choices. The decision to pursue a non-thesis program should be a well-considered one, grounded in a thorough assessment of your personal motivations and objectives.
How common are non-thesis master's degree?
Non-thesis master's degrees vary in prevalence across different regions. In many European contexts, for instance, most master's programs tend to culminate with a more extensive project that necessitates original research. However, internships and practical projects also hold a stronger presence in many programs.
Furthermore, the prevalence of non-thesis master's degrees is significantly influenced by the academic discipline in question. For instance, these degrees are more commonly found in fields like business and education as compared to social sciences or humanities.
Non-thesis master's programs are designed to equip students with practical skills and knowledge that can be immediately applied in a professional context, as opposed to focusing on original research. In several European countries, these programs may be referred to as "professional" or "applied" master's degrees, emphasizing practical training and real-world experience.
Additionally, in some contexts non-thesis master's programs might maintain a research-oriented element, where students are expected to complete a final project or a capstone experience that could involve some original research or data analysis, albeit usually less extensive than a traditional thesis.
In general, non-thesis master's degrees are relatively less prevalent, and their particular structure and prerequisites exhibit variations not only between countries but also among different universities.
Consequently, conducting comprehensive research to comprehend the specific program requirements and expectations is of paramount importance prior to applying.
The length of a thesis vs. non-thesis master's degree
It is erroneous to assume that a non-thesis master's degree requires less time to complete than a master's program with a thesis component.
It's essential not to conflate thesis and non-thesis master's degrees with one-year or two-year master's programs. In fact, many one-year programs do incorporate a thesis component.
Thus, if your primary goal is expediency and obtaining a degree within a shorter timeframe, the question of whether to pursue a non-thesis master's degree may not be the most relevant one to consider.
Reasons to pursue a non-thesis master's degree
Pursuing a non-thesis master's degree can offer unique advantages for individuals with diverse career goals and learning preferences:
Interest in practical and applied knowledge: Non-thesis programs often emphasize practical, hands-on knowledge that can be immediately applied in real-world scenarios.
Leadership development: Many non-thesis degree programs place a stronger focus on leadership skills, preparing students for roles where practical skills are essential in leading projects or teams.
Broadening career opportunities: Some fields, like business and education, highly value practical skills and knowledge, and a non-thesis master's can open doors to a wider range of career opportunities.
Balancing work and study: For individuals who are working professionals or have other commitments, non-thesis programs can be more accommodating in terms of managing work-study balance.
Lack of interest in research or academic writing: Some students may simply prefer coursework over extensive research and thesis writing, finding non-thesis programs a better fit for their academic and career goals.
How to decide whether a non-thesis master's degree is right for you
Choosing the ideal master's degree program is a significant decision, and it's essential to align your academic journey with your aspirations. Pursuing a non-thesis master's degree presents distinctive benefits that cater to a wide range of career objectives and learning styles. To make an informed choice, ponder the following questions:
What are your career goals and aspirations? Think about the specific roles or industries you want to work in after completing your master's degree.
Do you enjoy research and academic writing? Consider your preferences for in-depth research and thesis writing as some programs require these components.
Do you value practical, real-world experience? Assess whether you prioritize hands-on learning and the application of knowledge in practical settings.
What are the specific industry requirements in your field of interest? Research whether non-thesis or thesis-based programs are more aligned with the expectations of your desired industry.
What is your learning style? Reflect on your preferences for coursework, projects, and presentations versus extensive research and academic writing.
What type of assessment methods do you find engaging? Determine if you enjoy diverse evaluation methods, such as projects, presentations, and coursework, or if you prefer a single research-based project.