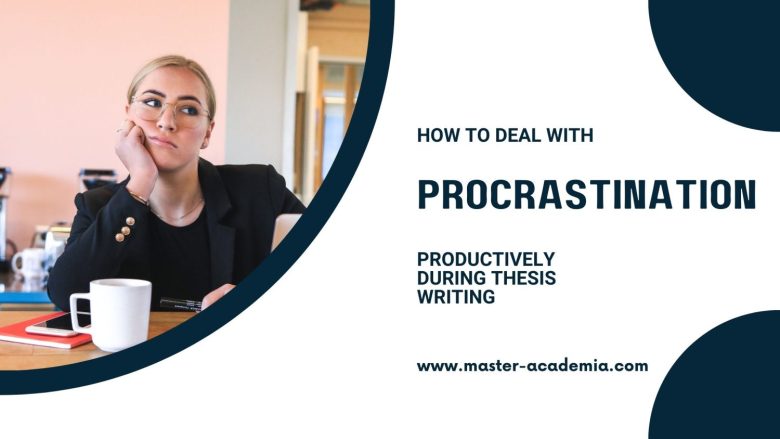 Writing a thesis is a tedious process. And academic writing requires a lot of brain power. It comes as no surprise that many master's and PhD students are master procrastinators. However, there is a way to accept procrastination and develop strategies to deal with it productively: positive procrastination.
Contents
What is positive procrastination?
Procrastination is essentially the fear of failure. It makes you feel overwhelmed. So overwhelmed that you become paralyzed. As a result, you don't get anything done.
Positive procrastination puts a – well – positive spin on procrastination.
Positive procrastination involves acceptance of one's feelings and redirection. It entails strategies to calm your mind and allow yourself to switch tasks.
Speaking from experience, it does not matter where you are in your academic career. You can never truly get rid of procrastination. If you try too hard, and it does not work, you get frustrated. Which leads to more procrastination.
A more positive approach to procrastination can help you to break this vicious cycle.
You may also like: Dealing with failure as a PhD student
Strategy 1: Positive procrastination by switching tasks regularly
Feeling overwhelmed is a common challenge for master's and PhD students. Writing a thesis seems insurmountable. And additional pressure comes from the idea that "you should be writing". All day, every day. But it's a myth. It really is.
Most of us cannot concentrate on a single task for too long. And that's okay.
Splitting your work into small, concrete parts, diversifies your work. And it allows your brain to switch between different types of activities.
A thesis involves so much more than writing. For instance, think of searching for literature, creating a good table of contents, organizing data in excel, designing figures and graphs, and searching for interviewees. The list goes on. Even listening to a podcast and reading tweets or newspaper articles on your topic can be beneficial.
Thus, if you feel stuck with a theory or concept, and start freaking out, take a deep breath. Take out the list of tasks related to your work and pick one. You will make progress, get something done, and feel better at the end of the day.
Strategy 2: Positive procrastination by working on something entirely different
A second strategy is to switch to an entirely different task. Even the most accomplished professor will tell you that not every day is a good writing or research day. The key is to do something else that is beneficial to your career.
Remember: you should make the best of your time as a master's or PhD student. That means you need to plan and work on your career holistically. For instance, it might be a good time to reach out to people on LinkedIn or to join a professional network.
Applying for internships, traineeships and jobs is also an option. If you know that you need to get your thesis done before starting the next adventure, you are less likely to procrastinate.
Strategy 3: Positive procrastination by starting with something easy
Conventional wisdom often tells you to do the most difficult thing first ("Eat the frog first" wisdom).
But what if this one difficult task scares you so much that you start putting it off? And as a consequence, you don't even start to work altogether? If that's the case, select an easy task first, like going through your emails.
Completing an easy task the first thing in the morning can motivate you for the day.
It creates confidence and satisfaction. You can cross something off your to-do list. Which likely makes you eager to cross off more.
Plus, you are already sitting behind the computer, at your desk or in the library. You might as well stay and work a bit more. It is easier to tackle a challenging task when you are ready to go, and already feel accomplished.
Strategy 4: Positive procrastination by cleaning your workspace and getting organized
There are times when you have to give in to procrastination. Simply be kind to yourself!
Sometimes, your brain needs a break. And cleaning your room is not the worst idea. It will make you feel better the next time you sit at your desk.
Once you realise that procrastination is connected to a fear of failure, you can also start taking back control. Take a few hours off from your thesis and start planning. Write to-do lists. Print out an agenda. Mark meetings, mini-deadlines and goals. Schedule your days.
It will make you feel in charge again. You can do this!