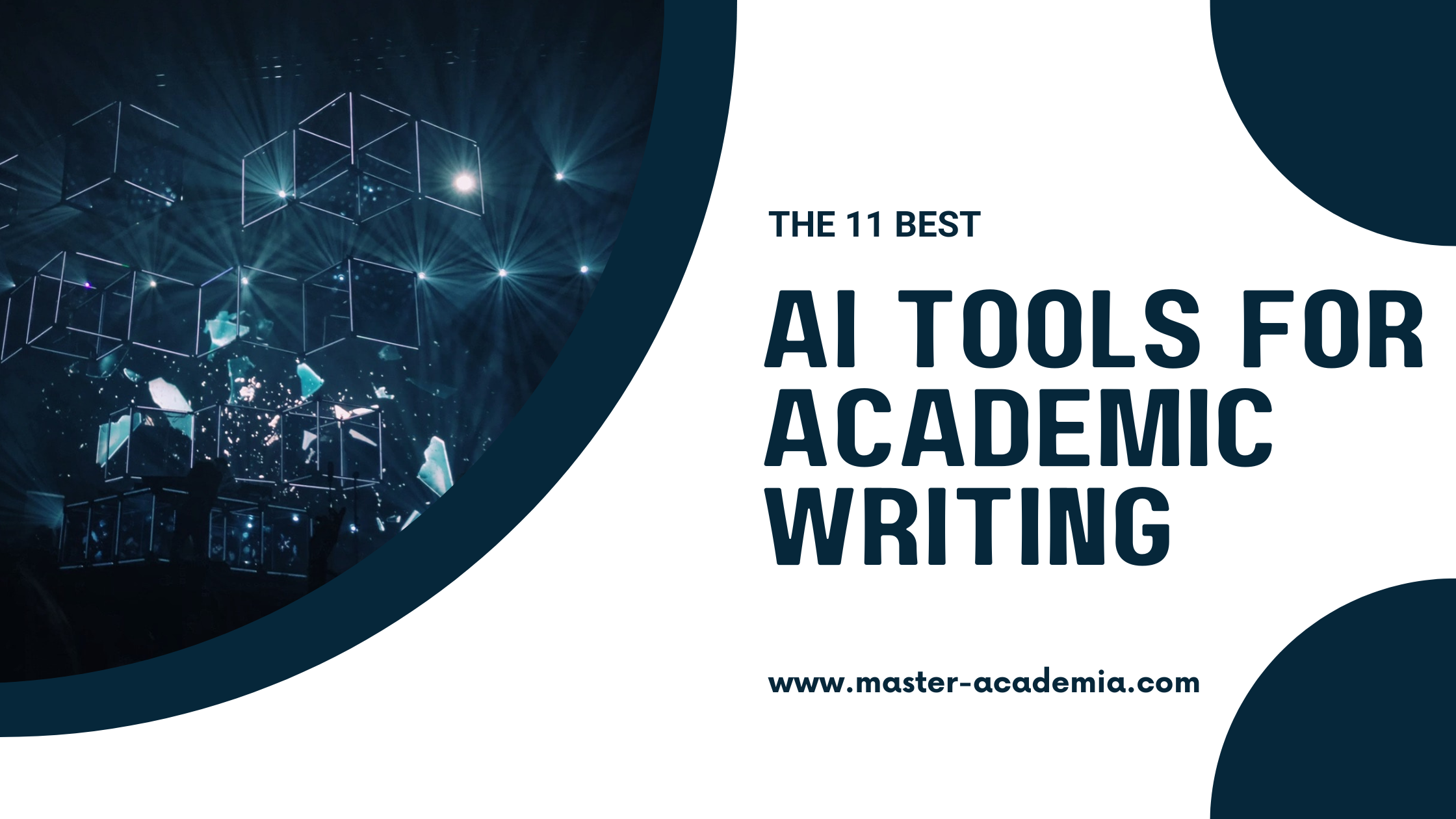 By leveraging the power of the right AI tool, you can significantly improve the clarity, efficiency, and overall quality of your academic writing. In this guide, we reviewed and ranked 11 popular AI tools for academic writing, along with our top 3 choices, so that you can pick the best one.
Contents
What are the best AI tools for academic writing?
With the rise of AI tools, academic writing is undergoing a remarkable transformation. The emergence of new AI-powered tools has revolutionized the way researchers, scholars, and students approach their writing tasks.
However, not all tools are created equal! And with the influx of options, it's important for academics to discern between the high-quality ones and the mediocre ones that can hinder efficiency rather than enhance it.
High-quality AI tools for academic writing help you:
correct grammar and spelling mistakes,
paraphrase,
incorporate references,
and much more.
Having to use multiple tools for different purposes can be frustrating. Therefore, comprehensive testing was conducted on AI tools to assess their all-encompassing capabilities.
Furthermore, the optional functions were compared to their respective prices to ensure a fair pricing structure. AI support for academic writing should be affordable and not strain your budget.
Here are Master Academia's top picks for the best AI tools for academic writing in 2023:
Best Overall for Academic Writing ($6.67/month)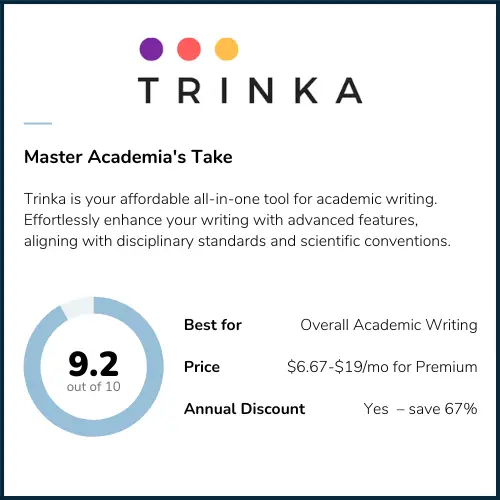 Trinka is a unique AI-powered writing tool designed specifically for academic and technical writing.
What sets Trinka apart is its ability to go beyond basic grammar and spelling corrections. It assists writers in finding the appropriate tone and style for academic writing, while also improving conciseness and implementing formal syntax.
Trinka takes into account the specific research subjects, ensuring that the writing style, word choice, and tone align with disciplinary standards and scientific conventions.
In addition to these advanced writing enhancements, Trinka offers a range of additional features. It includes consistency checking to maintain a coherent writing style, publication readiness checks to prepare your work for submission, plagiarism checking to ensure originality, and a citation analyzer to assess the quality and relevance of your citations.
By providing these comprehensive tools, Trinka offers a convenient and all-encompassing solution for taking your academic writing to the next level.
Key Features:
Robust grammar and spell-checker – Real-time writing suggestions that also cover tone and style enhancement, syntax, and technical spelling make you a proficient academic writer.
Disciplinary and scientific conventions – Trinka provides specialized adjustments of language, style, and tone to adhere to scientific conventions in various research fields, based on existing academic publications.
Powerful plagiarism checker – Through the inclusion of a powerful plagiarism checker powered by iThenticate and Turnitin (renowned software for plagiarism detection), you do not have to worry about accidental plagiarism.
Wide range of additional features – Trinka offers extra features such as a citation analyzer, journal finder, and publication readiness checker, ensuring your academic writing is prepared for publication efficiently.
Customization – Trinka has a personal dictionary feature, allowing you to customize the spellchecker to suit your own research work, facilitating a seamless editing process.
Plug-ins – Plug-ins are available for your favorite browser, and work on Microsoft Word, Google Docs, Gmail, Evernote, Notion, and more.
Cons:
For the Trinka Citation Checker and Plagiarism Check, you need to upload your file separately.
Pricing: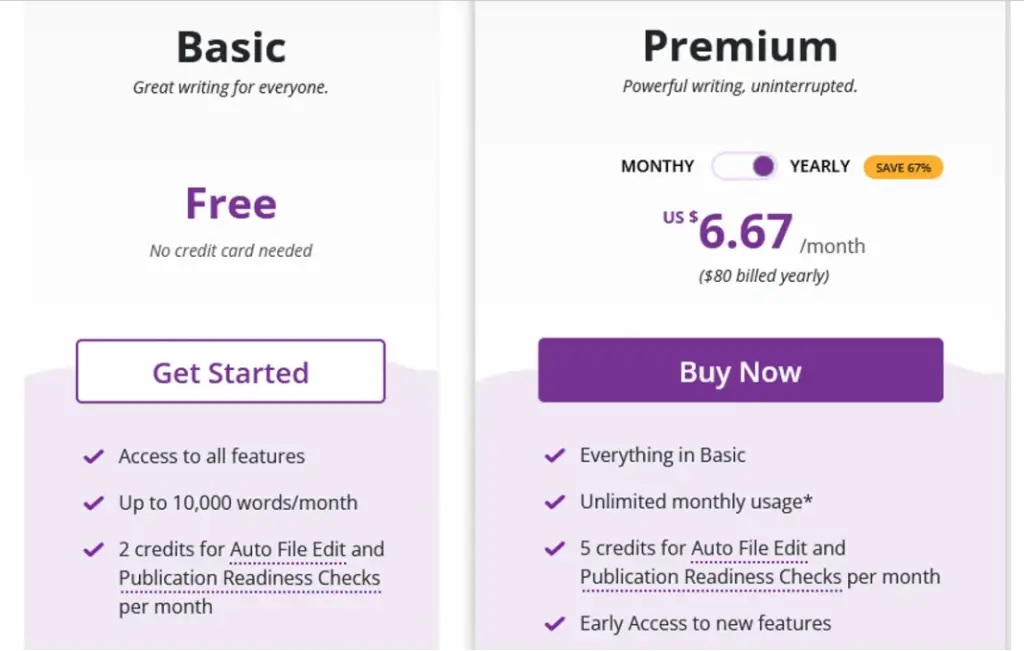 You can use the basic version of Trinka for free, which includes access to all features but with a monthly word limit of 5000 words. The pricing for Trinka's premium plan starts at $6.67 per month with annual billing, which is extremely affordable.
Best for Summarizing ($15.99/month)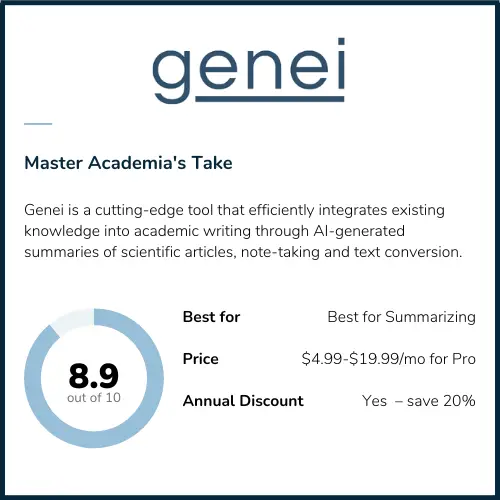 Genei has established itself as a prominent player in the realm of academic AI tools, and rightfully so.
As a comprehensive tool designed for academics, Genei goes beyond assisting with workflow organization and document storage—it also offers a plethora of features tailored specifically for academic writing.
Genei streamlines the academic writing process by utilizing AI-generated summaries and note-taking shortcuts, extracting information from academic articles.
Users can benefit from comprehensive summaries of entire articles or manually highlighted passages, which can be expanded, condensed, rephrased, and summarized with ease using Genei.
Moreover, Genei allows users to seamlessly adapt writing styles and effortlessly incorporate references.
For those heavily reliant on literature reviews in their academic writing, Genei proves to be a gamechanger.
Key Features:
Research article summaries – Academic writing often necessitates summarizing existing scientific articles, and Genei excels in simplifying this task with its high-quality AI-generated summaries.
Integrated workflow management – With Genei, you have the ability to save, store, and organize your publications and other documents, providing you with a comprehensive solution to manage your entire workflow within the tool.
Summarizing notes – When reading and summarizing within Genei, you have the option to utilize the note function, enabling you to highlight specific text passages and gather your thoughts, all of which can be conveniently converted into text format.
Control and customization over generated summaries: Genei allows you to provide specific instructions to the AI, such as requesting to "expand," "rephrase," or "summarize" a particular section. ‍
Academic discount – As an academic, you can receive a 40% discount on your Genei Pro subscription.
Cons:
Genei does not offer the option to customize the style and tone to adhere to specific disciplinary standards.
To utilize Genei, it is necessary to access its online interface as the tool does not offer any integrations or plug-ins with other platforms.
Pricing: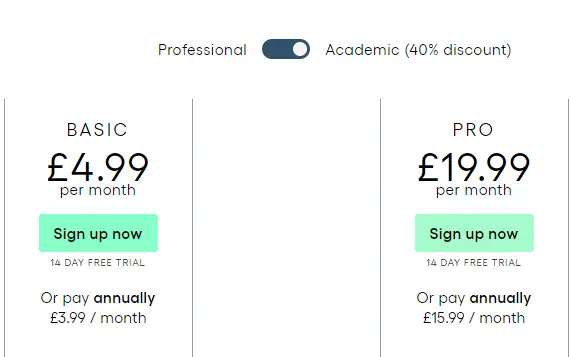 Genei offers two pricing structures, one for professionals and another for academics.
Professionals:
The basic version costs £9.99 per month, providing unlimited projects and resources but excluding GPT3 summaries and AI-powered expand, paraphrase & rephrase functions, with a maximum individual file upload of 5GB. The professional pro version, priced at £29.99/month, offers unlimited file upload and full functionality. Annual discounts are available.
Academics:
For academics, the basic version costs £4.99, while the pro version costs £19.99, which is essential for accessing the summaries and paraphrasing functions. With the annual discount, the pro version costs £15.99 per month.
Best for Paraphrasing ($8.33/month)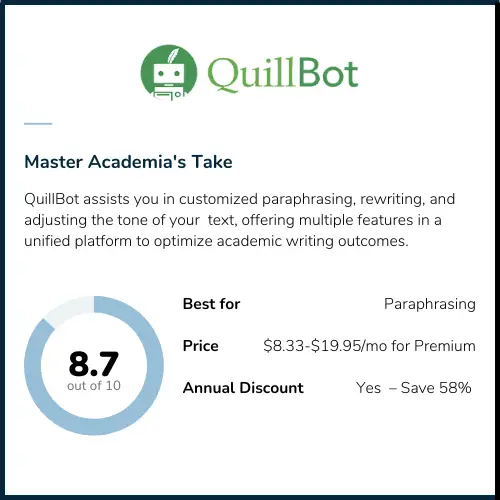 QuillBot is an AI-powered paraphrase tool that helps you to rewrite, edit, and adjust the tone of your text for increased clarity.
With QuillBot's all-in-one Co-Writer, you can access paraphrasing, summarizing, citation creation, and essay writing tools in a single location.
QuillBot's online paraphraser allows you to modify the meaning of any text using a variety of options. It offers two free modes and five premium modes, allowing you to control the level of vocabulary change.
A synonym slider enables you to adjust the amount of rewriting, in addition to a built-in thesaurus for customizing your paraphrases.
In simple terms, QuillBot's AI will collaborate with you to generate effective rephrasing. You have a lot of control as you can compare outputs from all seven available modes to choose the most suitable paraphrase.
QuillBot integrates seamlessly with Chrome and Microsoft Word, eliminating the need to switch windows when rephrasing sentences, paragraphs, or articles.
Key Features:
Paraphrasing options – QuillBot allows you to choose from seven different paraphrasing options (standard, fluency, formal, simple, creative, expand, shorten) to adjust your paraphrasing to your needs.
Built-in thesaurus – You can customize paraphrases with synonyms using the built-in thesaurus, which is extremely handy.
Track changes – You can view word count and percent change to feel confident about your revisions when paraphrasing.
All-in-one – Access all of QuillBot's tools in one writing space, including paraphrasing, summarizing, access to its citation generator, and its plagiarism checker.
Translation option – Translate text into 30+ languages.
Seamless integration – It is easy to incorporate QuillBot into your existing writing tools via Word and Chrome extensions.
Pause subscription – Academics and students can pause their subscription to align with their academic writing periods.
Cons:
QuillBot does not offer the option to customize the style and tone to adhere to specific disciplinary standards.
QuillBot has no built-in note-taking option.
Pricing: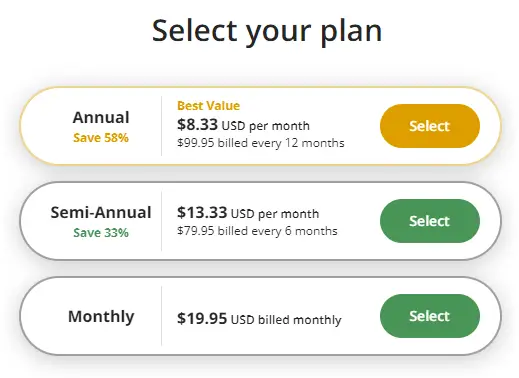 The free plan of QuillBot allows paraphrasing of up to 125 words and summarizing of up to 1200 words at a time, but excludes advanced features like advanced grammar rewrites, comparing paraphrasing options, and the plagiarism checker.
With the premium plan, you gain access to full functionality, including unlimited word paraphrasing, summarizing up to 6000 words, faster processing, advanced grammar features, tone detection, and more. The premium plan is priced at $19.95 per month or $8.33 per month when paid annually.
QuillBot also offers a 100% money back guarantee for the QuillBot Premium Plan.
Solid Editing and Content Creation Tool ($5.46/month)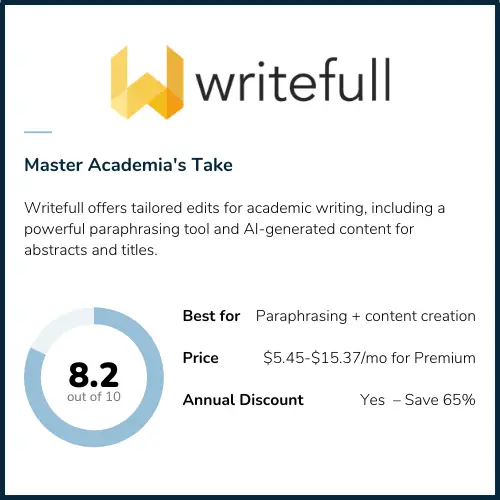 Writefull utilizes language models trained on extensive journal articles to provide tailored edits for academic writing and offers automatic paraphrasing and text generation.
With additional AI widgets like the Abstract Generator, Academizer, Paraphraser, and Title Generator, it provides inspiration and assistance for academic writers.
Writefull is a powerful editing tool designed for individuals who struggle with writer's block and prefer to revise and edit existing text rather than creating it from scratch.
Writefull is available for Word and Overleaf, allowing users to revise, upload, and download documents with track changes. This can be particularly useful if a document with track changes is required for a journal submission.
Key Features:
Data security – Writefull provides secure and quick text revisions without storing any user data or search history.
Track Changes – Users can upload their text for a language check, evaluate overall language quality, and make corrections using Track Changes.
AI-generated abstracts and titles: Writefull helps you to write abstracts based on your input, and provides suggestions for titles.
Institutional Premium Accounts – Universities can purchase a license which makes Writefull free to their students and staff.
GPT detector – Writefull users can utilize a GPT detector feature to determine if a text comes from GPT-3, GPT-4, or ChatGPT models.
Cons:
Writefull's Academizer makes text is supposed to make texts sound more academic, but it does not adjust to different disciplinary standards.
The seven paraphrasing modes are not all suitable for academic writing.
While abstracts and titles generated by Writefull ard not be flawless and may require some editing. Nonetheless, they serve as an excellent source of inspiration.
Pricing: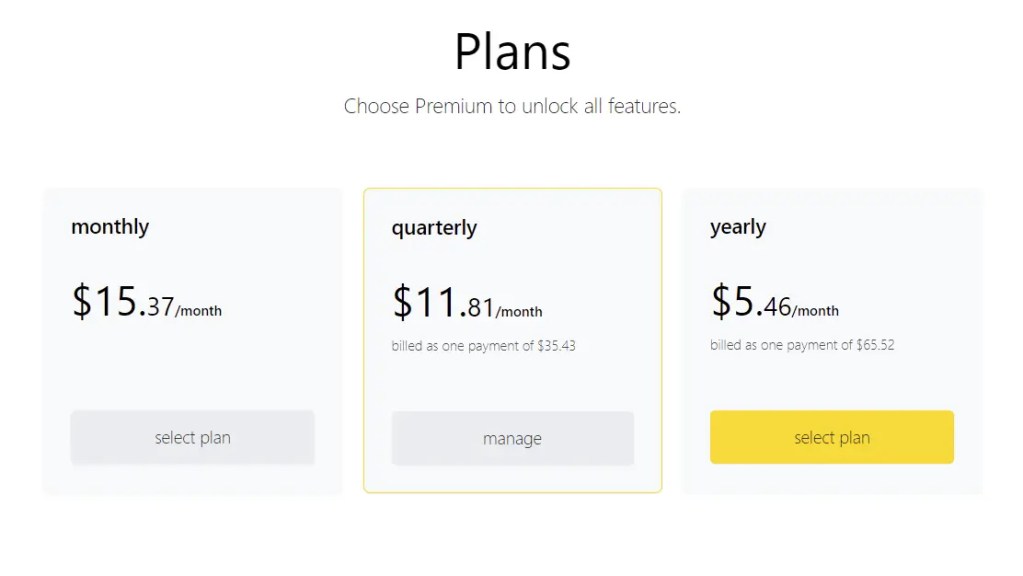 Writefull can be used with limited functionality for free. Its Premium Plan offers unlimited use of all features at a cost of $15.37 per month.
However, there are significant savings if you choose to pay annually, as it amounts to only $5.46 per month.
Tried and Tested Writing Assistant ($12.00/month)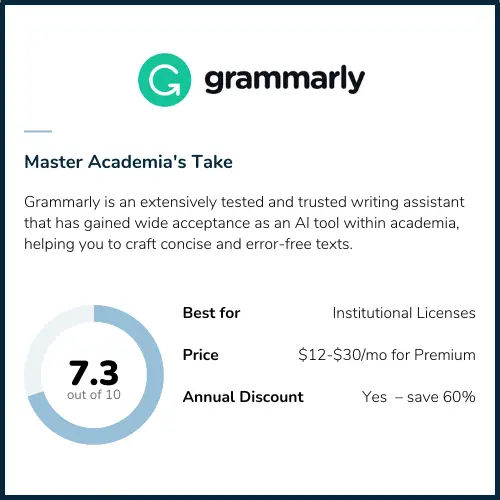 Grammarly is widely recognized as the leading AI-powered writing assistance tool. One of Grammarly's key advantages is its versatility and convenience.
Grammarly stands out among other AI tools by having a widespread and popular institutional license, which universities readily embrace.
Despite the common reservations university administrators hold against AI usage, Grammarly has established itself as a widely accepted and trusted tool among academics, researchers, and students.
Once installed, it seamlessly integrates into various desktop applications and websites, providing suggestions and assistance as you write across different platforms, including apps, social media, documents, messages, and emails, without requiring separate installations.
Grammarly's popularity in the academic community can be attributed to its support for citation style formatting and robust plagiarism detection, making it a valuable tool for academic writing.
Key Features:
Style and tone real-time assistance – Grammarly provides real-time suggestions and guidance on improving the style and tone of your writing.
Solid free version – The free version of Grammarly is reliable for basic grammar and spelling checks, as well as identifying unclear sentences and auto-citations.
Additional features: A range of advanced features, plagiarism detection, citation checking, and essay analysis, help you to identify unintentional plagiarism and enhance the overall quality of your writing.
Special offers for education: Grammarly for Education is available as an institutional license for universities. It ensures high security standards and data protection, which is particularly crucial when dealing with research data. This contributes to Grammarly's acceptance in academia.
Cons:
Grammarly is not directly targeted at academic writing, which means it may not fully cater to the specific needs and conventions of academic writing styles.
While Grammarly's premium plan provides suggestions to improve the overall tone of your writing, it lacks subdivision according to research fields or disciplines, which may not meet the specific requirements for unique scientific tone required in academic research writing.
Pricing: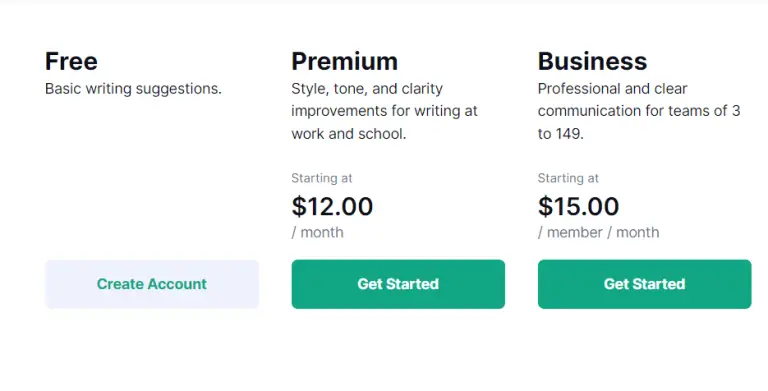 Grammarly's free plan offers valuable basic writing suggestions to improve your writing.
The premium plan may seem expensive at $30 per month, but with the annual savings of 60%, it becomes much more affordable at $12 per month.
The business account may not be of interest to students or researchers. However, universities can opt for Grammarly for Education, which provides licenses for free premium plans to students and staff.
Efficient Paraphrasing Tool ($9.99/mo)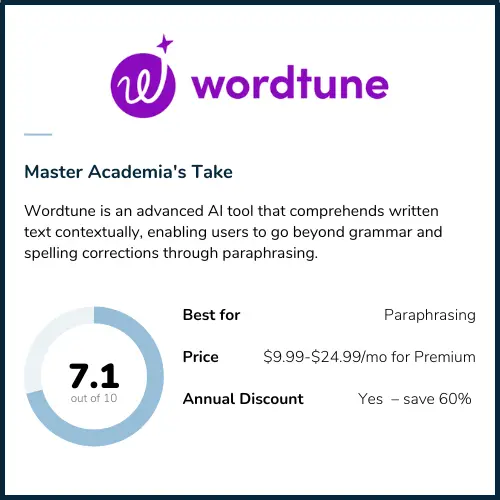 Wordtune utilizes sophisticated AI tools and language models that possess a deep understanding of written text, including its context and semantics.
Wordtune goes beyond mere grammar and spelling corrections, empowering you to express your own ideas effectively in writing.
The tool itself proclaims that it has gained the trust of students and researchers at renowned universities.
Although Wordtune excels in paraphrasing, providing synonym recommendations and an integrated plagiarism check for seamless usage, it is important to note that its focus is not primarily on academic writing, which influences the training of the system.
Key Features:
Synonyms – Wordtune provides contextual synonym recommendations for your sentences.
Grammar and spelling correction – With Wordtune you can rest assured that your text is free from grammar and spelling mistakes.
Plagiarism-free writing – Wordtune helps you avoid plagiarism by rephrasing text while preserving its original meaning with its built-in plagiarism checker.
Wide range of extensions – Wordtune offers convenient extensions for Chrome, Microsoft Word, iOS, Teams, and more.
Affordable – Wordtune provides cost-effective AI-powered paraphrasing capabilities.
Cons:
Wordtune does not have specific features or styles tailored for academic writing.
Wordtune primarily focuses on lengthening or shortening text and does not offer extensive tools for academic writing needs.
Pricing:

Wordtune offers a free version with limited features, while the premium version is priced at $24.99 per month. However, users can benefit from a significant 60% discount when opting for an annual subscription: With an annual subscription, the premium version of Wordtune is available at a reduced rate of $9.99 per month.
Academic Language Editor ($8.25/month)
Paperpal, developed by Researcher.life, is a specialized AI tool designed for researchers and academic writers, leveraging the expertise gained from editing numerous manuscripts by professional editors.
With Paperpal, you can effortlessly enhance your writing by addressing grammar errors and improving sentence structure, ensuring your credibility remains intact.
Moreover, Paperpal offers advanced features such as accurate translation and contextual synonyms, along with the choice between Essential and Extensive editing modes, providing flexibility to tailor the editing process to your specific needs.
Available as Paperpal for Word, Web, and Manuscript, this comprehensive tool also checks for structural and technical inconsistencies in your writing.
Key Features:
Trained with expertise of academic editors – Paperpal is an AI system that has undergone training on academic writing and human-edited manuscripts, guaranteeing high standards.
Translation – With Paperpal, you can effortlessly translate academic texts from over 25 languages to academic English.
Compliance with technical language standards – The manuscript checker in Paperpal ensures technical compliance and maintains language quality standards required for journal submissions.
Consistency feature – Paperpal's consistency feature checks for and detects stylistic inconsistencies unique to research content, allowing for seamless correction.
Data security – Your data is secure with Paperpal, as it adheres to a certified data security protocol and is compliant with ISO/IEC 27001:2013 standards.
Cons:
Paperpal does not offer a subdivision into research fields or disciplinary standards, meaning it does not cater to specific tones or styles required by different academic disciplines.
Currently, Paperpal only provides word integration and is limited to integration with Microsoft Word and web browsers.
Paperpal lacks a built-in plagiarism checker.
Pricing: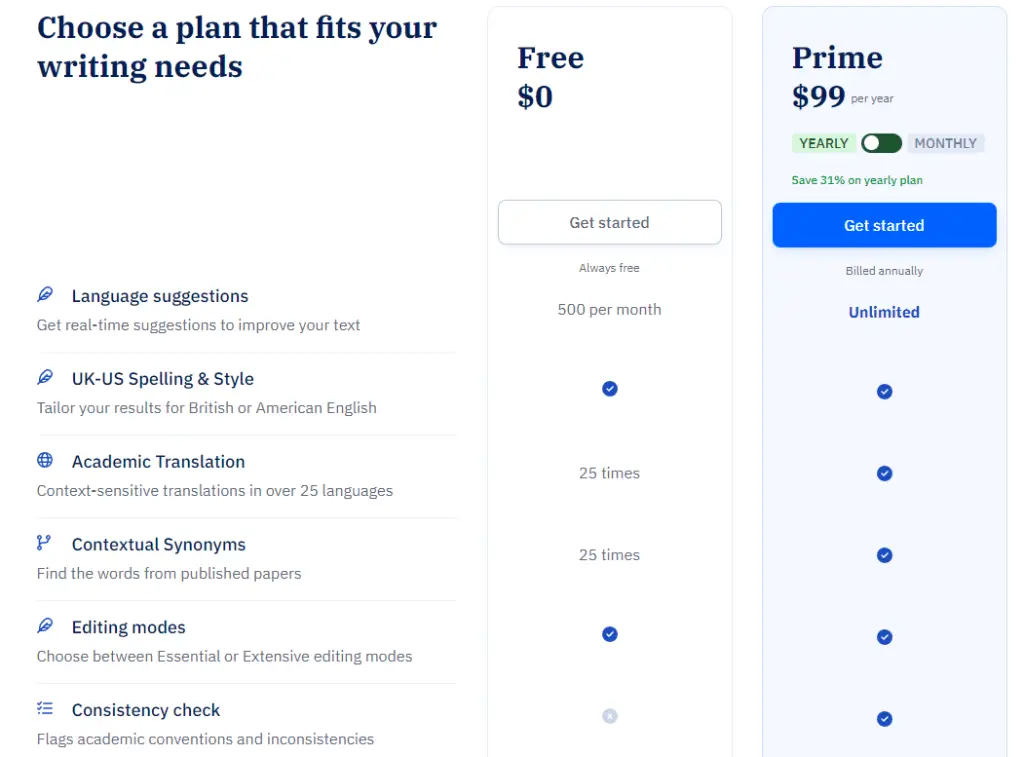 The Prime plan offers unlimited language suggestions and is priced at $99, which translates to just $8.25 per month when billed annually. For those who prefer a monthly plan, it is available at an affordable rate of $12 per month.
Smart Reference Tool While Writing ($3.00/mo)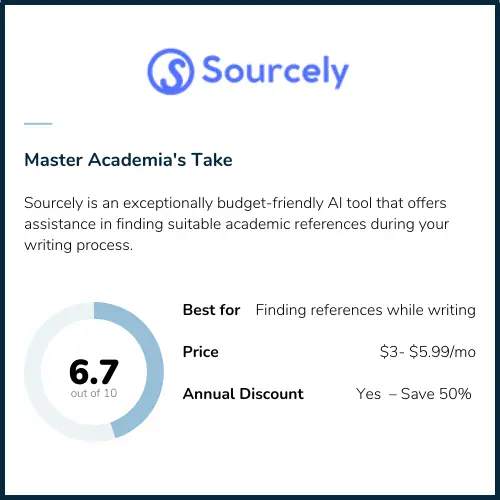 Sourcely is an AI-powered source-finding tool developed by a team of students which offers an easy-to-use solution for academic writers in search of references.
By analyzing text and identifying key themes, Sourcely searches through a vast data set to locate relevant and reliable sources, providing academic writers with the information needed to support their work.
Good references are crucial in academic writing, as they provide legitimacy to arguments and claims.
Simply input your essay title or text, and Sourcely finds suitable sources to enhance your work.
Key Features:
Source discovery – Sourcely provides a unique approach where you can first write your content and then effortlessly discover relevant sources to support your ideas.
Summaries – Sourcely offers a convenient feature called "Summarize a Source," allowing users to obtain a summary of an article or source they are considering for their work.
Affordability – Sourcely is highly affordable, making it an accessible option for users.
Cons:
Sourcely's feature of providing interesting source recommendations is appealing, but it is not comprehensive enough to solely rely on and neglect consulting resources from other reliable sources.
Sourcely has limited features compared to other AI writing tools.
Pricing: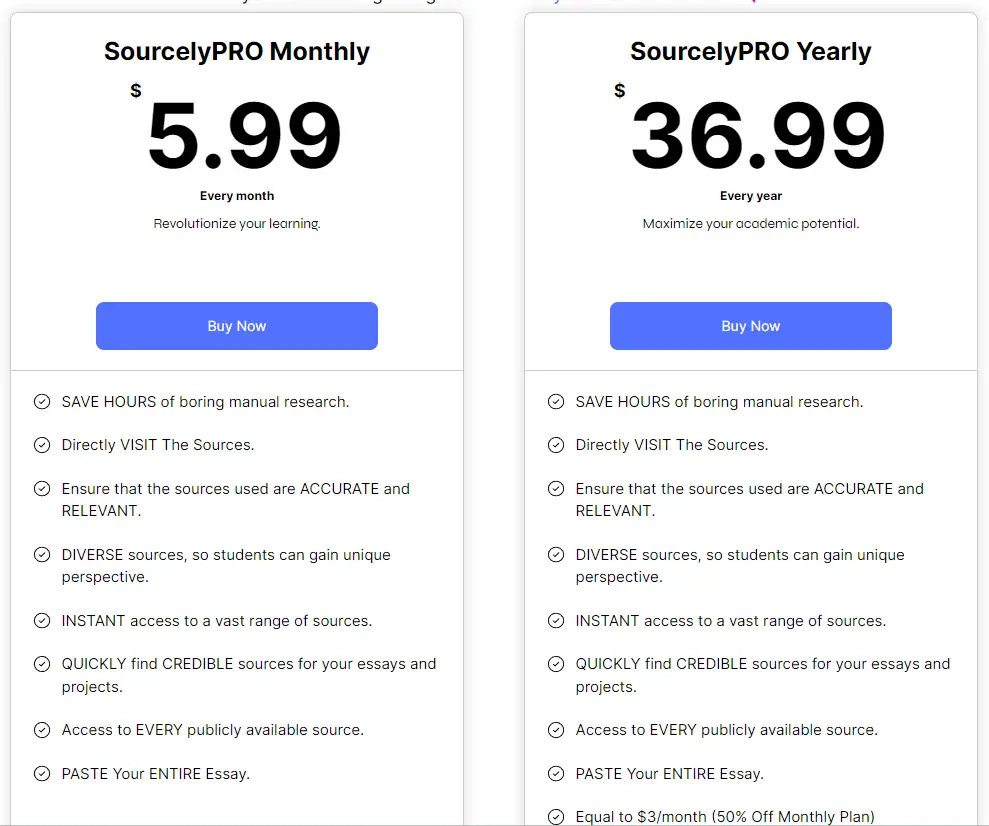 Sourcely offers great affordability with a price of $5.99 per month or $36.99 per year. While it may have fewer features compared to other academic writing tools, its lower price point still makes it a valuable and useful tool for academic writing.
Fast Translating and Rewording Tool ($7.5/mo)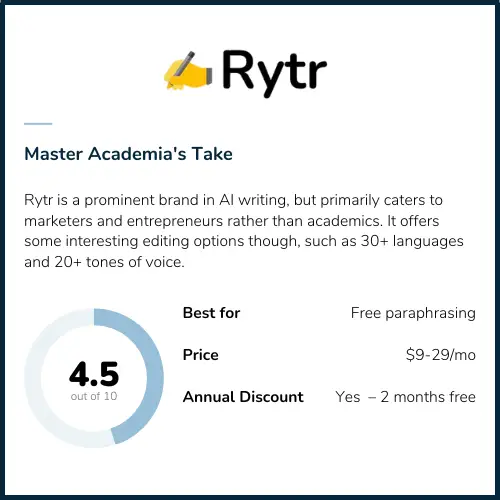 Rytr is an AI writing assistant that quickly generates high-quality content at an affordable price, primarily targeting marketers, copywriters, and entrepreneurs.
While it is recognized by G2 (business software reviews) as a leading brand in the AI Writing space and claims to be "loved by academicians," it is important to note that Rytr is not trained on academic articles.
Rytr is a text-generating AI tool. Depending on the purpose, academics can find it useful for selecting from multiple languages and tones of voice, as well as rewording and shortening text.
With the convenience of a browser extension, Rytr saves time and ensures your copy is top-notch especially for emails, social media posts, or blogs.
Key Features:
40+ use cases – Rytr is an AI writing assistant that offers content generation for over 40 use cases, including emails, cover letters, and blog posts, with the ability to both shorten and lengthen content as needed.
Generous free plan – While Rytr is not specifically targeting academic writing, it provides a generous free plan that can be beneficial for tasks such as writing emails and blog posts for research dissemination.
Translation – Rytr can help you to translate your texts into 30+ languages.
Customization – The platform offers a range of options to enhance the writing process, including language selection, tone customization, expanding or rephrasing text, formatting options, and even a readability score feature.
Cons:
Rytr is not suitable for essay or academic writing purposes, as it lacks the necessary features specifically designed for these types of tasks.
It is not targeted towards researchers and fails to provide valuable tools like citation assistance, which is essential for academic writing.
While Rytr offers a range of features, some of them, such as SEO optimization, are irrelevant and not beneficial for academic writing purposes.
Pricing: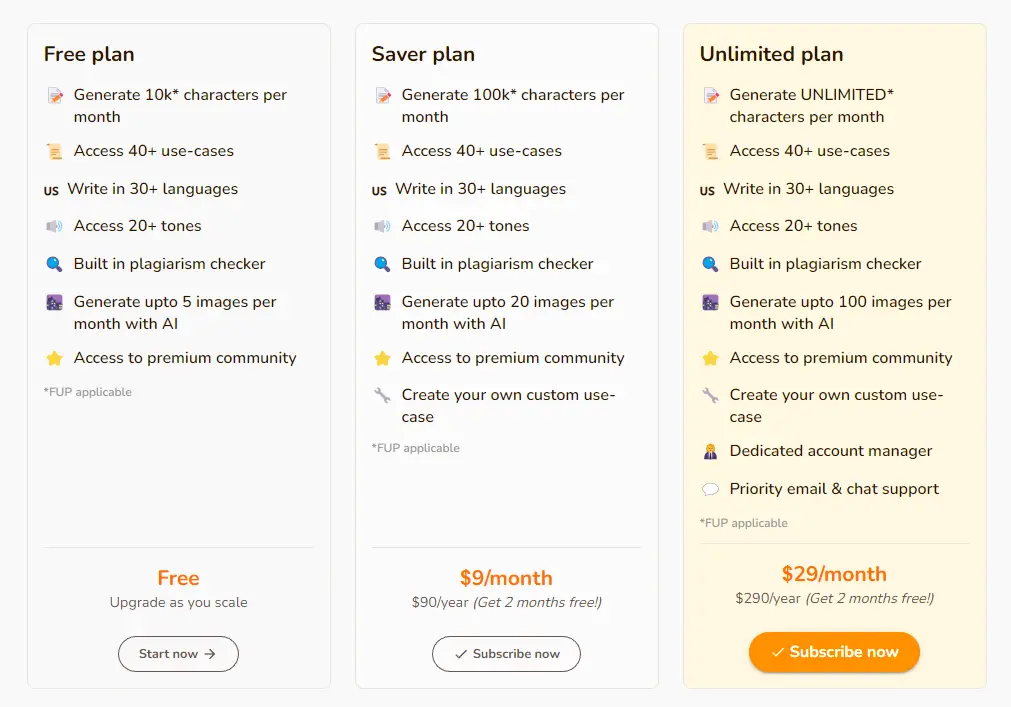 Rytr offers a free plan that allows users to generate content up to 10,000 characters per month. For more advanced features and increased usage, there is the Saver Plan priced at $9 per month (or $7.5 per month when billed annually).
Alternatively, the Unlimited plan is available at $29 per month or $290 per year. These different pricing tiers cater to the diverse needs of users, ensuring they can find the plan that best suits their requirements.
Paraphrasing and Translation Tool ($12.67/mo)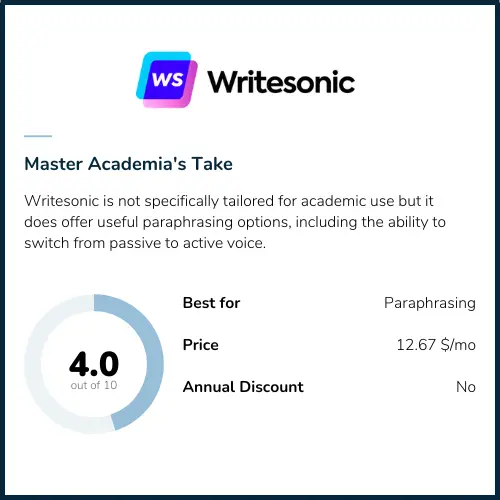 While Writesonic is primarily geared towards marketing teams and entrepreneurs, it offers an intriguing feature for academics: the paraphrasing tool. This tool allows users to rephrase content in multiple languages.
With Writesonic's paraphrasing tool, you can effortlessly rewrite sentences, paragraphs, essays, and even entire articles with a simple click.
Produced content is 100% unique and free from plagiarism.
Upon generating a paragraph, Writesonic provides three different versions for you to choose from. It allows you to select the best option or make edits and revisions using the various variations.
Key Features:
Choice – Writesonic provides three paraphrased options for each paraphrase, ensuring you find the most suitable and impactful version for your content.
Switching from passive to active voice – Transform your writing by switching from passive voice to active voice. Active voice sentences provide clarity, conciseness, and impact, ensuring you don't miss out on great opportunities. The rewording tool allows you to rephrase paragraphs and change the voice of your sentences effortlessly.
Paraphrase your content in different languages – Writesonic's Paraphrase tool can be used to conduct AI paragraph rephrasing in up to 26 different languages.
Cons:
Writesonic is not specifically designed for academic writing, and its features are not tailored to meet the specific requirements of academic writing.
The platform lacks an academic writing style, which is essential for maintaining scholarly integrity and adhering to academic conventions.
While Writesonic offers various features, some of them, such as SEO optimization, are not directly applicable or relevant to academic writing tasks.
Pricing: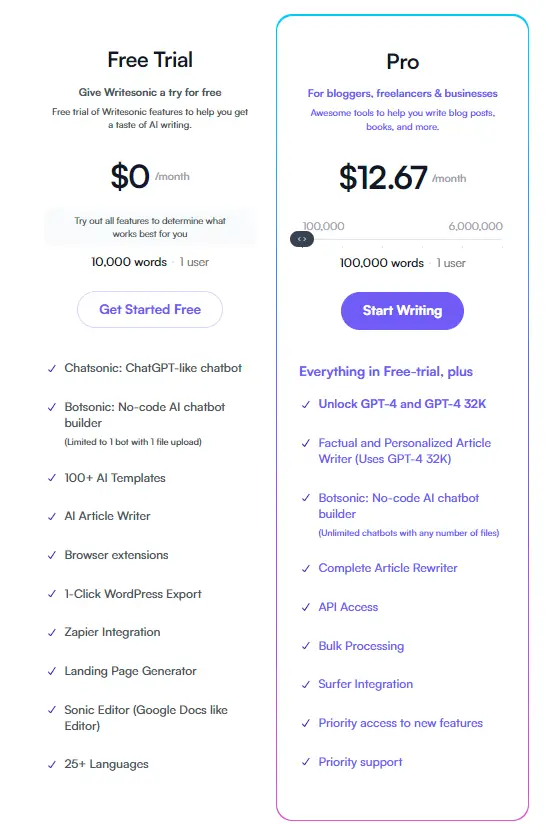 You can start with a free trial of Writesonic to experience its features. If you decide to upgrade to the Pro version, it is available at a cost of $12.67 per month.
Summarizing and Paraphrasing Tool ($19.99/mo)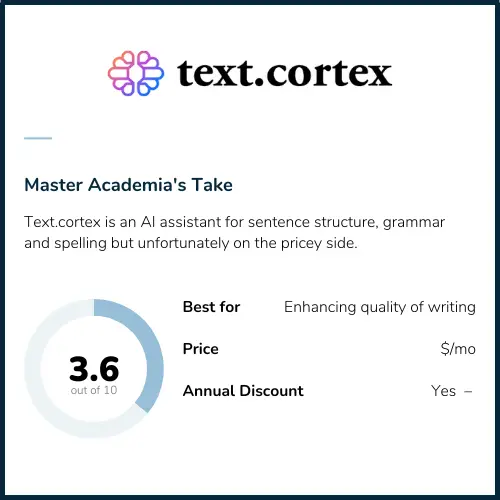 With TextCortex you can say goodbye to any worries about wording and spelling mistakes. Furthermore, it can help you to speed up your reading process.
TextCortex is an AI tool which can condense long texts into concise summaries, capturing the essential points.
Moreover, it can enhance your fluency and adapting vocabulary, tone, and style to match any situation.
Key Features:
Paraphrasing – TextCortex offers a powerful paraphrasing tool to help you rephrase and enhance your text.
Translations – TextCortex's translation feature allows you to effortlessly write in over 25 languages including French, German, Spanish, Swedish, and more.
Cons:
TextCortex is not specifically designed for academic writing, catering to a broader audience instead.
It may not be cost-effective for academics due to its high price relative to the limited functionality it offers for academic writing purposes.
Pricing: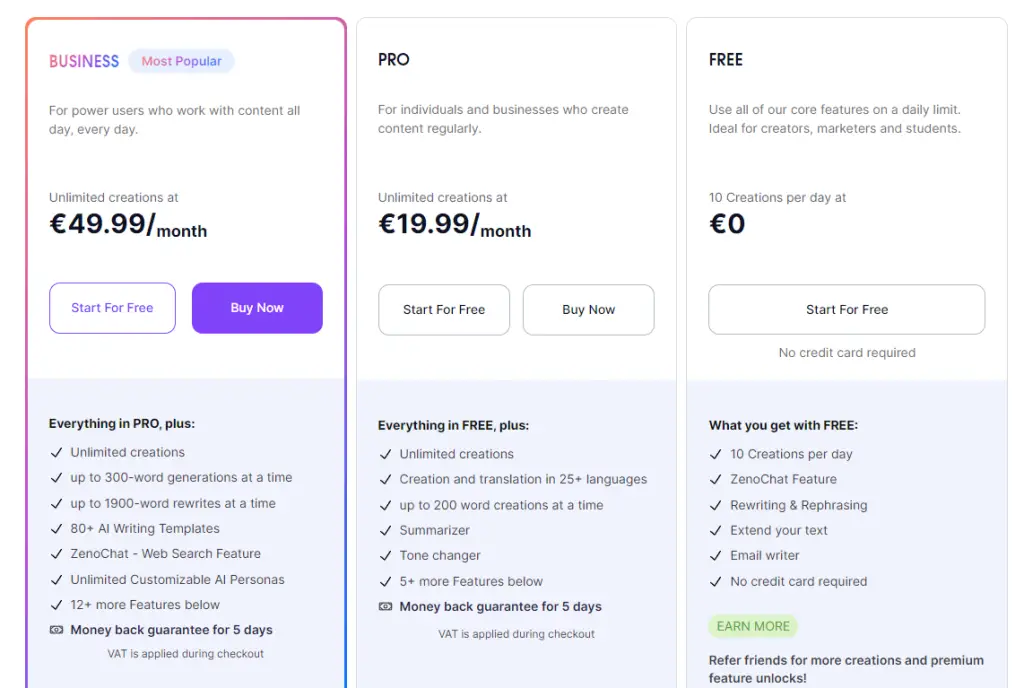 With the free version of TextCortex, you have the ability to create up to 10 pieces per day. For enhanced features and unlimited usage, the Pro version is available at a price of $19.99.
Summary and Top Picks
The landscape of AI writing tools is continuously evolving, witnessing the introduction of new tools regularly. However, not all these tools are equally suitable for academic writing, as their effectiveness depends on your specific goals and requirements.
While some tools, although not specifically designed for academic writing, can still provide valuable assistance in certain areas, there are standout options that are solely dedicated to enhancing academic writing.
Keeping this in mind, our top picks for academic writing support are the following AI tools: