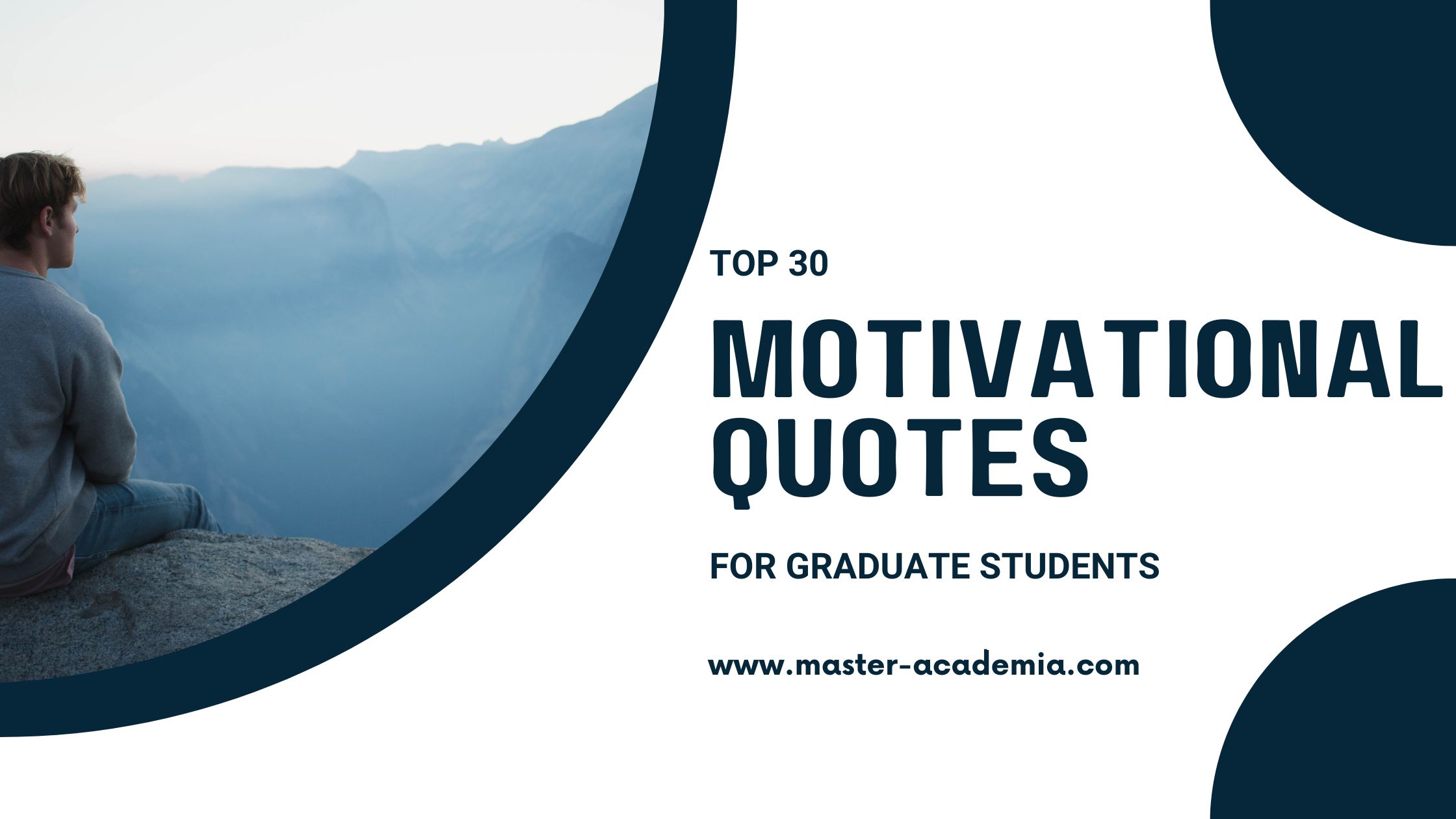 Graduate studies mark a unique chapter in a student's life, often defined by self-discovery, overcoming challenges, and the active pursuit of one's future. Here is a curated list of the most inspiring motivational quotes tailored to graduate students navigating this distinct journey of graduate studies.
1. We all have dreams. But in order to make dreams come into reality, it takes an awful lot of determination, dedication, self-discipline, and effort.
– Jesse Owens
2. Education is the passport to the future, for tomorrow belongs to those who prepare for it today.
– Malcolm X
3. Courage is the most important of all the virtues because without courage, you can't practice any other virtue consistently.
– Maya Angelou
4. There are only two mistakes one can make along the road to truth; not going all the way, and not starting.
– Buddha
5. Education is the most powerful weapon which you can use to change the world.
– Nelson Mandela
You may also like: 10 key skills of successful master's students
6. No great thing is created suddenly.
– Epictetus
7. The future belongs to those who believe in the beauty of their dreams.
– Eleanor Roosevelt
8. Perseverance is not a long race; it is many short races one after the other.
– Walter Elliot
9. To be yourself in a world that is constantly trying to make you something else is the greatest accomplishment.
– Ralph Waldo Emerson
10. Education is not the learning of facts, but the training of the mind to think.
– Albert Einstein
11. No one can make you feel inferior without your consent.
– Eleanor Roosevelt
12. If you feel like there's something out there that you're supposed to be doing, if you have a passion for it, then stop wishing and just do it.
– Wanda Skyes
13. Don't count the days; make the days count.
– Muhammad Ali
14. You may encounter many defeats, but you must not be defeated. In fact, it may be necessary to encounter the defeats, so you can know who you are, what you can rise from, how you can still come out of it.
– Maya Angelou
15. Difficult roads often lead to beautiful destinations.
– Unknown
You may also like: The 30 best determination quotes for students
16. Strength and growth come only through continuous effort and struggle.
– Napoleon Hill
17. To find yourself, think for yourself.
– Socrates
18. A goal without a plan is just a wish.
– Antoine de Saint-Exupéry
19. Dream big and dare to fail.
– Norman Vaughan
20. Don't watch the clock; do what it does. Keep going.
– Sam Levenson
21. You are never too old to set another goal or to dream a new dream.
– C.S. Lewis
22. Believe you can and you're halfway there.
– Theodore Roosevelt
23. Success is the sum of small efforts repeated day in and day out.
– Robert Collier
24. The journey of a thousand miles begins with one step.
– Lao Tzu
25. It's the little details that are vital. Little things make big things happen.
– John Wooden
26. The key to realizing a dream is to focus not on success but on significance, and then even the small steps and little victories along your path will take on greater meaning.
– Oprah Winfrey
27. Education is not the filling of a pail, but the lighting of a fire.
– William Butler Yeats
28. Learning is a treasure that will follow its owner everywhere.
– Chinese Proverb
29. The beautiful thing about learning is that no one can take it away from you.
– B.B. King
30. The future is always beginning now.
– Mark Strand