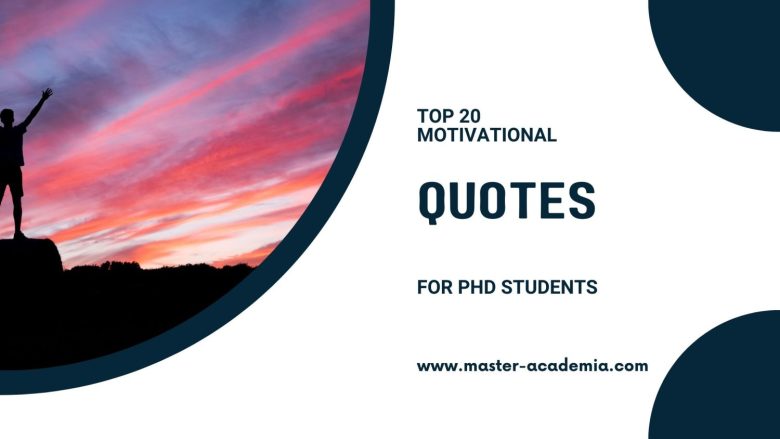 Everyone needs some extra motivation from time to time. PhD students are no exception. Here is a list of the 20 best motivational quotes for PhD students.
1. You alone are enough. You have nothing to prove to anybody.
– Maya Angelo
2. We are what we repeatedly do. Excellence, then, is not an act, but a habit.
– Aristotle
3. Do what you feel in your heart to be right – for you'll be criticized anyway.
– Eleanor Roosevelt
4. If you work on something a little bit every day, you end up with something that is massive.
– Kenneth Goldsmith
5. Act as if what you do makes a difference. It does.
– William James
You may also like: The 20 best motivational quotes for academic success
6. Everything is hard before it is easy.
– Goethe
7. Our greatest glory is not in never falling, but in rising every time we fall.
– Confucius
8. If you get tired, learn to rest, not to quit.
– Unknown
9. I never lose. Either I win or learn.
– Nelson Mandela
10. Life is a balance between holding on and letting go.
– Rumi
11. Remember, you have been criticizing yourself for years and it hasn't worked. Try approving of yourself and see what happens.
– Louise L Hay
12. We must be willing to let go of the life we planned so as to have the life that is waiting for us.
– Joseph Campbell
13. The measure of intelligence is the ability to change.
– Albert Einstein
14. Failure after long perseverance is much grander than never to have a striving good enough to be called a failure.
– George Eliot
15. If you don't write, nothing will change.
– Unknown
16. Action is the foundational key to all success.
– Pablo Picasso
17. If I cannot do great things, I can do small things in a great way.
– Martin Luther King Jr.
18. Done is better than perfect.
– Sheryl Sandberg
19. Believe you can and you're halfway there.
– Theodore Roosevelt
20. To be yourself in a world that is constantly trying to make you something else is the greatest accomplishment.
– Ralph Waldo Emerson