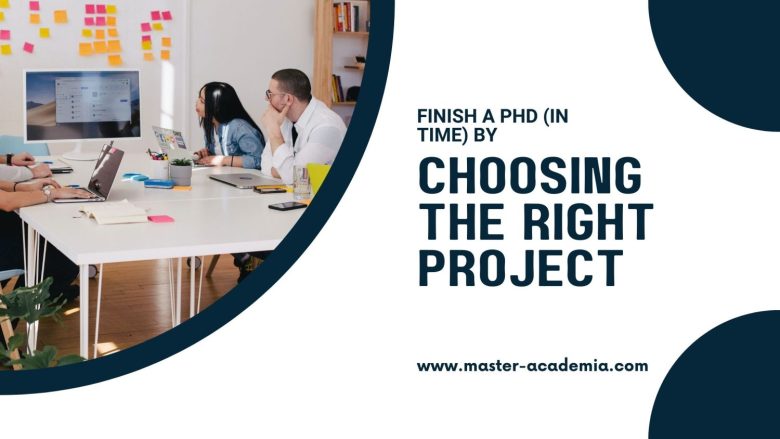 A new study draws attention to the correlation between the type of PhD projects and the chances of completing a doctorate (as well as completing it in time). Many PhD students might be familiar with the findings based on personal experiences. However, particularly prospective PhD candidates can learn from these insights and make strategic decisions when applying for PhD projects.
Contents
Factors that influence PhD success
The study on PhD candidates' success is published in the journal Studies in Continuing Education. Authors van Rooij, Fokkens-Bruinsma and Jansen (2021) from the University of Groningen sampled a total of 839 PhD candidates in the Netherlands.
The authors argue that three common factors are linked to PhD students' success. They are:
"institutional or environmental factors, including the departmental culture;
supervision-related factors such as the quality and quantity of supervision and the relationship between the supervisor and PhD student;
and individual PhD student characteristics like background characteristics (e.g. gender, age) and behavioural and psychological characteristics (e.g. personality, motivation)" (van Rooij et al. 2021: 49).
However, until this study, the importance of the type of PhD project has been under-researched and under-valued (ibid.). The following three characteristics of the candidates' chosen PhD project turned out to play an important role:
The level of freedom in defining your PhD research
With the level of freedom, van Rooij et al (2021) refer to the ability of PhD students to determine their setup and implementation of their PhD study.
Of course, every PhD project is influenced by the student's supervisors, their feedback and recommendations. However, …
Dissatisfaction emerges particularly when PhD candidates are forced to work on projects or areas that they are not interested in.
As a prospective PhD candidate, having a good understanding of the PhD trajectory at the institution where you apply is paramount. Try to find out how much freedom and choice you are given, and to what extent you have to work within certain parameters.
Working within a rather limited framework might not necessarily be bad. However, if that is the case, make sure that you are excited about the niche project and the given limitations.
Many PhD students work for instance within an existing, large-scale research project. Often these projects are comparative. This often means that PhD candidates within the project have to follow very concrete work packages to develop comparative material.
Are you a free spirit, and opposed to listening to orders? Then an independent (and even self-funded) PhD outside of an existing project might be the better choice for you.
The general workload and teaching obligations during a PhD
Many PhD students work over time, during evenings and weekends. They feel a high degree of work pressure. In the long term, PhD students' energy gets depleted, which can cause burnout and mental illnesses.
For anyone working within academia, it is, therefore, no surprise that van Rooij et al (2021) found that PhD students with a perceived high workload were less satisfied and more frequently thought about quitting.
Nonetheless, scientific evidence of this interplay is a good warning sign. For instance, if you are applying for a PhD programme, make sure to be well informed about the amount of teaching that you are required to do.
Is teaching 10% of your PhD contract, or 20%? What other activities are you required to perform besides conducting your research? Are you supposed to take over administrative tasks? Does thesis supervision count as part of your teaching obligation?
Explore these questions when looking at an open PhD position. And don't overestimate your ability and time management. Writing a PhD takes time and requires high mental effort. You might not be able to work productively after 3 or 4 hours of academic writing, even if you are used to working 8-hour days in a non-academic job.
The collaboration with colleagues
Working as part of a big project team might limit your decision-making ability regarding where you want your research to go. At the same time, it might have the advantage of working closely together with colleagues and supervisors.
According to van Rooij et al (2021), evidence shows that PhD students who work on individual, isolated projects are less likely to finish their PhD than those who work as part of a larger team.
Doing a PhD can be very lonely, and good relationships with supervisors and other PhD students are crucial to keeping going. To share experiences. To realize that you are not the only one struggling. And to encourage each other.
Speaking from experience, working as part of a team can also create a stronger sense of purpose and commitment. Working on a project alone or in a quite isolated manner easily lets PhD student doubt what they are doing and why. Which in turn negatively affects their motivation and work outputs.
The connection to PhD supervisors
Working in a large project team is not the only solution. Researchers also found that students whose work is very closely linked to their supervisors' interests are succeeding more, and faster.
It makes sense. If a supervisor is interested and invested in a project, this will spill over into the supervision style. The other way around, the PhD student can learn much more from supervisors who work on very similar issues.
Thus, when approaching a professor or several potential supervisors, it is crucial to find a good match. It makes a lot of sense to look at the research activities and publications of supervisors. As well as having several meetings to see if you are connected on a social level as well.
---
The full study can be found online, and I recommend reading it if you think of embarking on a PhD yourself:
E. van Rooij, M. Fokkens-Bruinsma & E. Jansen (2021) Factors that influence PhD candidates' success: the importance of PhD project characteristics, Studies in Continuing Education, 43:1, 48-67, DOI: 10.1080/0158037X.2019.1652158