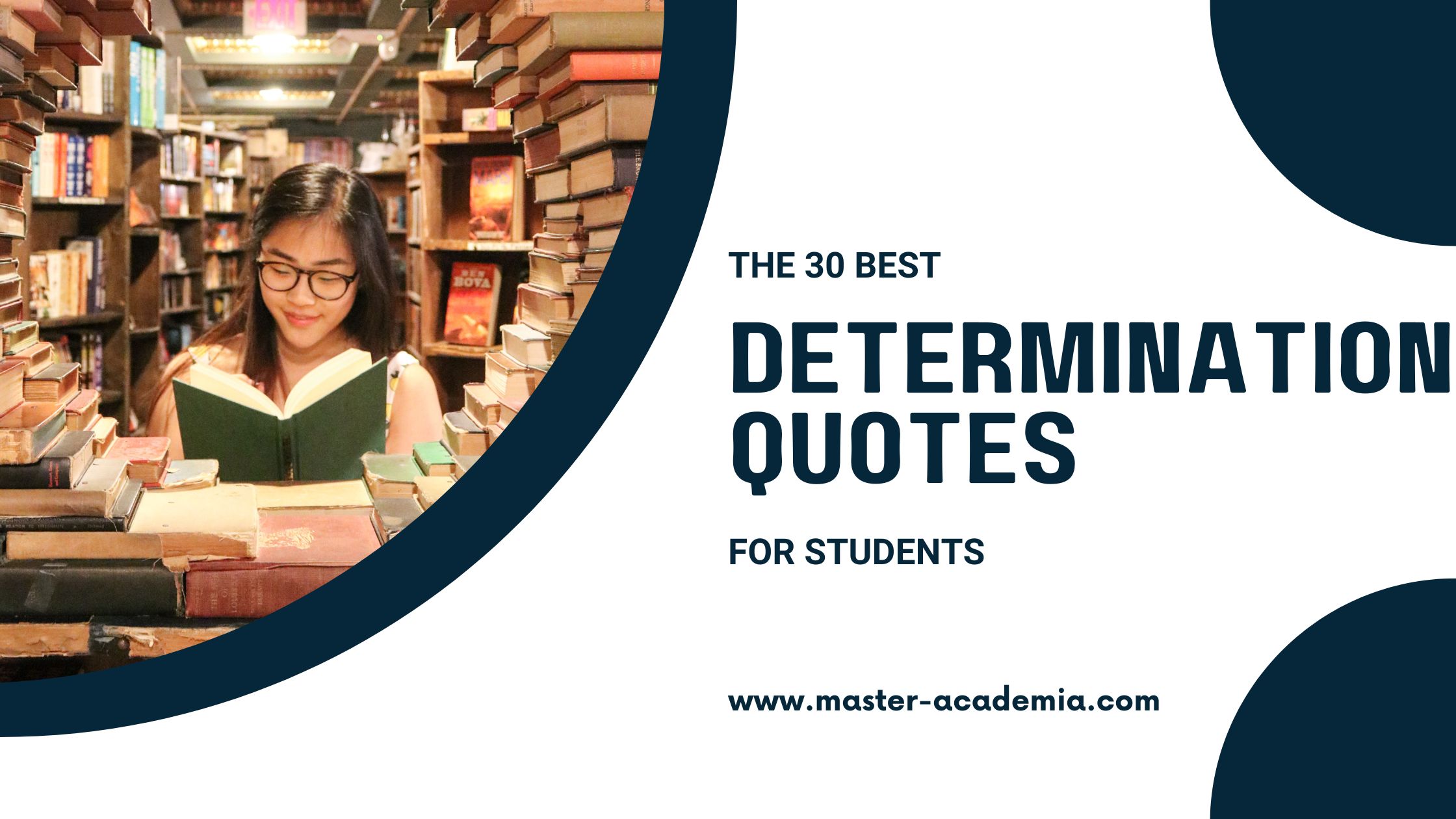 Determination is a fundamental component of a successful student's journey, entailing persistence and moving forward in the face of challenges and obstacles. To provide you with that extra boost of motivation, here's a compilation of 30 inspirational quotes for students, designed to ignite determination.
1. The truest wisdom is a resolute determination.
– Napoleon Bonaparte
2. The future belongs to those who believe in the beauty of their dreams.
– Eleanor Roosevelt
3. Determination over negativity is a belief that anything is possible no matter who you are or where you come from.
– Donovan Mitchell
4. You can have all the talent in the world, but without determination, you won't get very far.
– Malorie Blackman
5. Obstacles are those frightful things you see when you take your eyes off your goal.
– Henry Ford
You may also like: The 20 best motivational quotes for academic success
6. They say love will find a way. I know determination will.
– Ronnie Milsap
7. You miss 100 percent of the shots you don't take.
– Wayne Gretzky
8. If one does not know to which port he is sailing, no wind is favorable.
– Seneca
9. There are only two mistakes one can make along the road to truth; not going all the way, and not starting.
– Buddha
10. The best way out is always through.
– Robert Frost
11. If you're truly determined, every obstacle becomes a stepping stone.
– Maxime Lagacé
12. If we attack our problems with determination we shall succeed.
– Franklin Roosevelt
13. If you hear a voice within you say 'you cannot paint,' then by all means paint, and that voice will be silenced.
– Vincent van Gogh
14. In all human affairs there are efforts, and there are results, and the strength of the effort is the measure of the result.
– James Allen
15. If you run into a wall, don't turn around and give up. Figure out how to climb it.
– Michael Jordan
You may also like: 37 creative ways to get motivation to study
16. Success consists of going from failure to failure without loss of enthusiasm.
– Winston Churchill
17. Patience, persistence and perspiration make an unbeatable combination for success.
– Napoleon Hill
18. Enthusiasm is common. Endurance is rare.
– Angela Duckworth
19. When obstacles arise, you change your direction to reach your goal, you do not change your decision to get there.
– Zig Ziglar
20. Successful people have fear, successful people have doubts, and successful people have worries. They just don't let these feelings stop them.
– T. Harv Eker
21. It's not that I'm so smart, it's just that I stay with problems longer.
– Albert Einstein
22. Nothing really worth having comes quickly and easily. If it did, I doubt that we would ever grow.
– Eknath Easwaran
23. I don't need it to be easy, I need it to be worth it.
– Lil Wayne
24. Be not afraid of going slowly, be afraid only of standing still.
– Chinese Proverb
25. Courage is the commitment to begin without any guarantee of success.
– Johann Wolfang von Goethe
26. Believe you can and you're halfway there.
– Theodore Roosevelt
27. Dreams don't work unless you do.
– John C. Maxwell
28. The future depends on what you do today.
– Mahatma Gandhi
29. It does not matter how slowly you go as long as you do not stop.
– Confucius
30. Determination today leads to success tomorrow.
– Dwayne Johnson