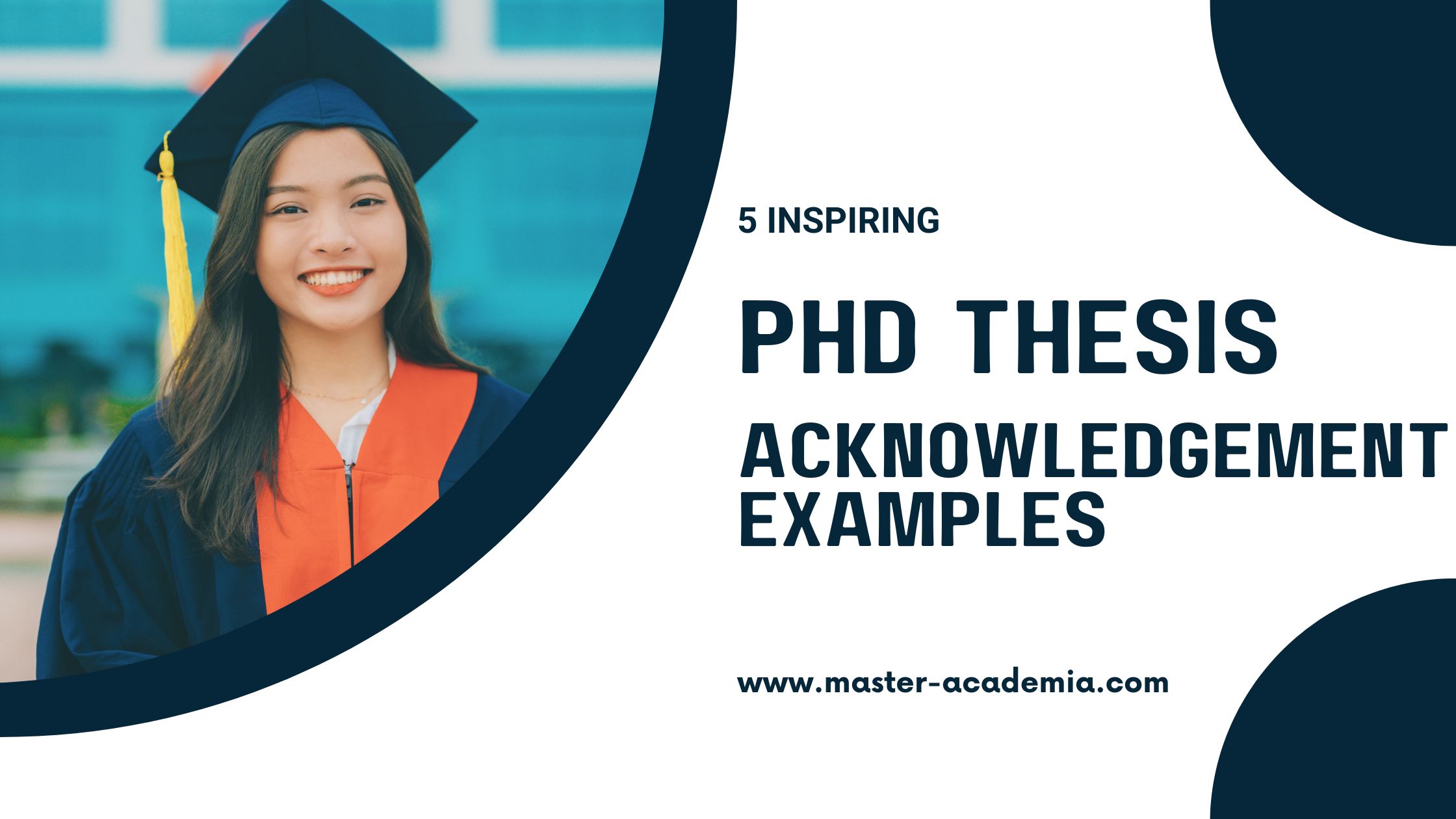 Crafting a PhD thesis acknowledgement can be a challenging task, but it can also be an enjoyable one. There are no strict rules or guidelines to follow, allowing for creative freedom. However, seeking inspiration from sample acknowledgements can greatly assist in initiating your own writing process. Here are five PhD thesis acknowledgement examples!
Contents
PhD thesis acknowledgement example 1
I started my PhD just before the onset of the Covid-19 pandemic, a period that presented numerous challenges and uncertainties. Nonetheless, I made it to the finish line! I would like to express my deepest gratitude to the exceptional individuals who supported and guided me throughout this transformative journey, enabling me to successfully obtain my doctorate despite the many unforeseen obstacles that arose.
First and foremost, I would like to thank my PhD supervisors, Prof. Xiu Ling and Prof. Frederic Semoas. Their constant support, guidance, and encouragement have been invaluable throughout the entire process. From the initial stages of refining my research proposal to the final submission of my thesis, their unwavering presence and wealth of wisdom have been instrumental in shaping my academic growth. I highly valued the biweekly meetings we held, which not only served as crucial checkpoints to keep me on track academically, but also provided me with plenty of encouragement. I am profoundly grateful for the immeasurable contributions they made to my development.
In addition to my supervisors, I am indebted to my exceptional lab mates, whose support has been a constant source of motivation. Our collaborative writing sessions and informal chats, whether conducted via screens during lockdowns or in person whenever circumstances allowed, provided a lifeline during the most challenging times. I am proud to say that we became more than just lab partners, but good friends. Paul, thanks for always providing a steady supply of cookies that brought much-needed sweetness to our intense work sessions. Ina, your late-night phone calls helped me to keep my self-doubt in check. And Valeria, your enthusiasm and upbeat character made spending long hours in the lab an enjoyable experience.
Among the most memorable highlights of my PhD journey was the opportunity to participate in the Applied Chemistry Summer School in Belfast. This enriching experience would not have been possible without the dedication and expertise of Dr. Simone and Dr. Erek. I am deeply grateful for the knowledge, connections, and friendships that were forged during that time.
Lastly, I want to express my deepest gratitude to my family whose belief in my abilities and support. Your encouragement played an integral role in my accomplishments. To my mom, dad, and Maria: Thank you for everything. I dedicate this PhD thesis to you.
PhD thesis acknowledgement example 2
It takes a village to raise a child" is a well-known proverb, and I strongly believe that completing a PhD also requires the support of a village. Therefore, I would like to express my sincere gratitude to the people who played significant roles in my PhD journey.
First and foremost, I would like to thank my supervisor, Patricia Renault. Your exceptional academic expertise, coupled with your commitment to support early career researchers truly make you a role model in the often competitive realm of academia. Your guidance and encouragement have been invaluable.
I would also like to express my gratitude to my PhD thesis committee members: Prof. Dr. Hels, Prof. Dr. Frontstotten, Dr. Buwo, and Dr. Luis. Thank you for your time and effort, reading the 284 pages of my thesis thesis for providing valuable feedback and thought-provoking questions. Your insights have greatly enriched the quality of my work.
Furthermore, I want to thank all the interviewees who generously shared their thoughts and life stories for my research. Without your willingness to participate, my thesis would not have been possible.
A special appreciation goes to my colleagues and peers at the Department of Anthropology. Engaging in stimulating academic exchanges with all of you while maintaining a personal connection has been truly enriching.
Lastly, I want to express my deepest gratitude to my wife. Thank you for always being my rock, accompanying me through the highs and lows of this academic journey. Your support and belief in me have been a source of strength and motivation.
PhD thesis acknowledgement example 3
When I embarked on my PhD journey five years ago, little did I know the profound experiences that lay ahead. Fulfilling my long-held dream of pursuing a PhD, time seemed to pass swiftly as I immersed myself in the world of academia. Transitioning from several years in professional practice back to the university environment was both daunting and exhilarating.
I am incredibly grateful for the opportunity to be a part of an exceptional research institute that provides deep insights into seismology. I extend my heartfelt appreciation to my advisor, Prof. Dr. Daniels Selwas, for generously sharing his extensive academic knowledge and playing a pivotal role in helping me establish myself within the academic community. I am truly thankful for his firm yet compassionate guidance, which not only facilitated significant contributions to publications during my PhD but also opened doors I never thought possible.
Undoubtedly, pursuing a PhD presented its fair share of challenges. Early on, I encountered setbacks when some of my experiments failed, leading me to readjust my research proposal in my second year. However, what initially appeared as hurdles eventually revealed themselves as blessings in disguise. These challenges allowed me to refocus my efforts on seismic tomography, a subject that ignited a genuine passion within me. I apologize to everyone who patiently endured my enthusiastic ramblings about my research!
During my third and fourth years, I had the privilege of working as a teaching assistant for Prof. Susan Meyers. This role introduced me to the immensely fulfilling world of teaching, from which I gained invaluable knowledge and insights. Prof. Meyers provided exceptional guidance and unwavering support throughout my teaching endeavors.
As I diligently worked on documenting my research results, the small breaks organized by my best friend Andy became cherished highlights after long days of writing. These rejuvenating moments kept me motivated and inspired to persevere.
As I bring my five-year-long PhD journey to a close, I can genuinely say that I am immensely proud of my accomplishments. This transformative journey has not only shaped me as a researcher but also as an individual, imparting the invaluable lesson that perseverance yields fruitful rewards in the long run. The unwavering commitment and determination displayed by those around me have profoundly influenced my character.
My greatest aspiration is that my research proves beneficial and contributes to a better understanding of earthquakes. The drive to advance knowledge in this field continues to fuel my motivation and determination. I am deeply grateful to all the individuals mentioned, as none of this would have been possible without their guidance and encouragement. I am excited to see what the future holds.
PhD thesis acknowledgement example 4
"The more that you read, the more things you will know, the more that you learn, the more places you'll go." —Dr. Seuss
This quote has always resonated with me, but as I approach the end of my PhD, its profound meaning has taken on new significance in my life.
Throughout my PhD journey, I have been fortunate to explore various places and experiences. Moving to Chicago, I had the privilege of joining an exceptional literature department, surrounded by individuals who share a deep passion for reading. Relocating to a new city on my own was challenging, but fate led me to forge a wonderful friendship with my flat mate, Loreen. Loreen, I am grateful for your companionship and support from the very beginning of my PhD.
Furthermore, I cannot envision a better PhD supervisor than Dr. Molly Glours. Her countless feedback and guidance have played a pivotal role in refining my academic writing and sharpening my arguments. Molly, your unwavering passion for literature is truly inspiring, and I aspire to follow in your footsteps one day.
My academic journey has also taken me to conferences in Canada and Belgium, marking my first experiences in Europe. Beyond the intellectually stimulating discussions, these trips have provided unforgettable adventures for a small-town girl from the Midwest.
Participating in a three-minute research pitch competition not only pushed me beyond my comfort zone but also introduced me to an incredible partner, Joshua. It is remarkable how life leads us to unexpected places and introduces us to remarkable people when we least expect it.
My research has also led me to the Chicago Public Library, where I had the opportunity to work with children's reading clubs as part of my fieldwork. This collaboration has been incredibly rewarding, and I extend my heartfelt thanks to George Newton and Immania Hikale for making this partnership possible.
Finally, I would like to thank my family. Mom, your tireless work and unwavering commitment to provide for Joan and me while always emphasizing the value of education have made a profound impact on my journey. From those early hours spent in the library together, you instilled in me a deep love for reading. Completing a PhD in comparative literature feels like the natural culmination of our shared journey, and I hope you are aware of and proud of the significant role you have played in shaping my path.
Grandma and Grandpa, you made immense sacrifices and worked tirelessly to provide a better life for your children and grandchildren. Look how far we have come! Your dedication and resilience continue to inspire me as I reflect on my achievements.
PhD thesis acknowledgement example 5
Completing a PhD is a monumental achievement, and I still find it hard to believe that I have reached this milestone. I want to raise a toast to everyone who has been a part of this incredible journey with me.
First and foremost, I owe a tremendous debt of gratitude to Professor Dr. Suna Shikrati, who has been instrumental in my success over the past four years. I feel incredibly fortunate to have had the guidance and mentorship of such a highly respected academic.
To Katie, Felicitas, Aron, Xime, and Andy – you are the best PhD crew in the entire department. Together, we have navigated the challenges and celebrated the triumphs, and I am grateful to have had you by my side.
Sonya, words cannot express how much your unwavering belief in me has meant. You have been my biggest cheerleader throughout this journey, and I cannot thank you enough for your love and support.
Lastly, I want to express my heartfelt appreciation to coffee and my dog Ben. Coffee has fueled countless late nights and early mornings, providing the necessary jolt to keep me going. And Ben, my loyal companion, you have been my faithful reminder to take breaks, dragging me away from my computer and insisting on regular outdoor excursions.