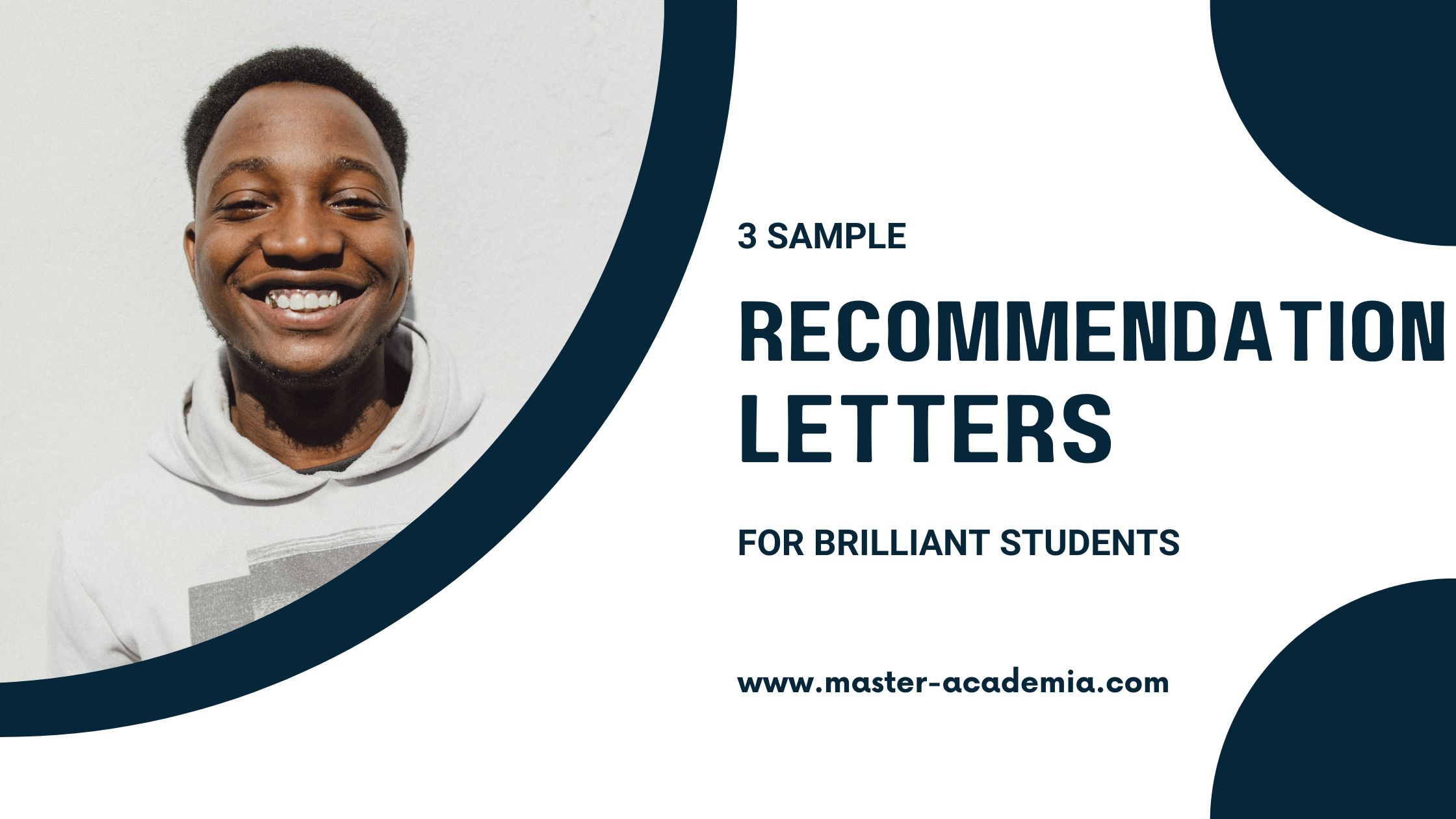 A good recommendation letter can significantly impact an applicant's chance of securing a position or funding. Writing recommendation letters is most enjoyable when the applicant is an exceptional student with an impressive profile, whom you genuinely want to endorse. As many master's and PhD students may be required to write the first draft of their recommendation letters themselves, having good example letters for inspiration is also crucial for them.
Contents
Elements to include in a great recommendation letter
To write an effective recommendation letter for a scholarship or programme, it's important to personalize it and tailor it specifically to the candidate's goals. As a result, exceptional recommendation letters will be distinctive and individualized.
Even though great recommendation letters are highly personalised, they should all cover several essential elements:
The writer's relationship with the applicant
The applicant's academic (and extracurricular) accomplishments
The applicant's personal strengths and qualities
The applicant's suitability for the scholarship or programme that the applicant is applying for
The following samples of recommendation letters illustrate how the elements of a recommendation letter can be used to create a personalized story in support of exceptional student applications.
Sample recommendation letter 1
Dear Members of the Selection Committee,

Michelle Franda has contacted me regarding her application to the Master of Science in Physics at the University of Washington, and I am pleased to offer my wholehearted support. I had the pleasure of teaching Michelle during two consecutive courses and an interactive seminar in the 2022-2023 academic year at the University of Iowa, and I have come to know her as a dedicated and engaged undergraduate student.

From the moment Michelle entered my class, I recognized her as an outstanding talent. She consistently achieved high grades on exams and assignments and demonstrated her dedication and diligence for the subject matter. My colleagues at the University of Iowa have also informed me that Michelle excelled during other courses of her undergraduate degree in Applied Physics and will graduate as one of the top 10% students of her year.

In addition to her academic achievements, Michelle was an active participant during class discussions, contributing deep insights and compelling questions that drove the discussion forward. During group assignments, she often took on a leadership role, but did so in a way that encouraged collaboration and brought out the best in her peers, particularly those who were struggling.

Michelle's intellectual curiosity is truly impressive, and I am excited to hear that she is considering pursuing a graduate degree. The highly selective program at the University of Washington would be an excellent fit for a talented student like Michelle, and I am confident that she will thrive in this environment and make valuable contributions to the program.

I hope that my letter provides helpful insight for your selection process. If you have any questions, please do not hesitate to contact me.

Sincerely,

Dr. Yulos
Example recommendation letter for a graduate degree application
Sample recommendation letter 2
Dear Board of Trustees,

I am delighted to express my support for Amar Tavi's application for The Australian Government Research Training Program (AGRTP) Scholarship 2023 to pursue a doctoral research degree at Flinders University.

I have worked closely with Amar over the last two years as part of his master's degree and supervised his master's thesis in the last six months. During this time, I witnessed his development from a student to an independent researcher who took matters into his own hands and always delivered more than was expected of him.

Amar is a diligent student with a talent for quickly absorbing new information. He could easily link discussions and insights from lectures to assigned literature and new theoretical frameworks. He was a valuable contribution to the classes and seminars I held, and his 4.0 GPA speaks to his academic abilities.

Above all, he always showcased enthusiasm and proactivity. For example, during his thesis writing process, he independently developed his research focus and design. Studying political engagement in low-income neighborhoods in Bangalore, he conducted extensive fieldwork including participant observation and 30 interviews with residents.

The breadth and depth of his ethnographic data collection and analysis honestly surprised me, as it is beyond the average ability of a master's student within our programs. Furthermore, Amar was always keen to link his findings to policy relevance, in line with his drive and ambition to improve the lives of those who are underprivileged.

Besides these factors, working with Amar is a pleasant and intellectually stimulating experience. I wholeheartedly believe that he is well-equipped to conduct research at the doctoral level. The ability to pursue a Research Doctorate degree at Flinders University with the support of the AGRTP Scholarship would be a unique opportunity for Amar and a suitable next step for his academic and personal development.

Due to his societal engagement, this would not only be an investment in him but also in the wider community, as I am confident that he will use his ability to pursue higher education abroad to benefit his community and extend his engagement to support underprivileged people.

If you require any further information, please do not hesitate to get in touch.

Warm regards,

Maya Patel
Example recommendation letter for a PhD scholarship application
Sample recommendation letter 3
Dear Admissions Committee,

It is with great pleasure that I write this letter of recommendation for Sophie Bianchi, a student in the Master of Marine Biology program at the University of Padova in Italy. I have had the pleasure of working with Sophie as her lecturer and study advisor, as well as her supervisor during her research assistantship in one of my projects last summer.

Sophie is a highly motivated and dedicated student, who has displayed exceptional academic abilities during her time in the Master of Marine Biology programme. Her interest in applied maritime research and her work experience as a research assistant last summer have given her the necessary skills and experience to excel in the Living Ocean Lab summer school in 2023.

Sophie has shared with me her aspirations to pursue work in applied maritime research after her graduation, and I believe that the Living Ocean Lab summer school would be the perfect opportunity for her to enhance her research abilities and gain valuable experience in the field.

I am confident that Sophie's passion for marine biology, as well as her keen intelligence and eagerness to learn, would make her a valuable addition to the summer school programme. She would also benefit from meeting other students from around the world and being exposed to different viewpoints and methodologies when it comes to maritime research.

In summary, I wholeheartedly support Sophie's application to the Living Ocean Lab summer school in 2023. I believe she would be an excellent candidate for the program and that her participation would be mutually beneficial.

Sincerely,

Dr. Sarah Johnson
Example recommendation letter for a summer school application