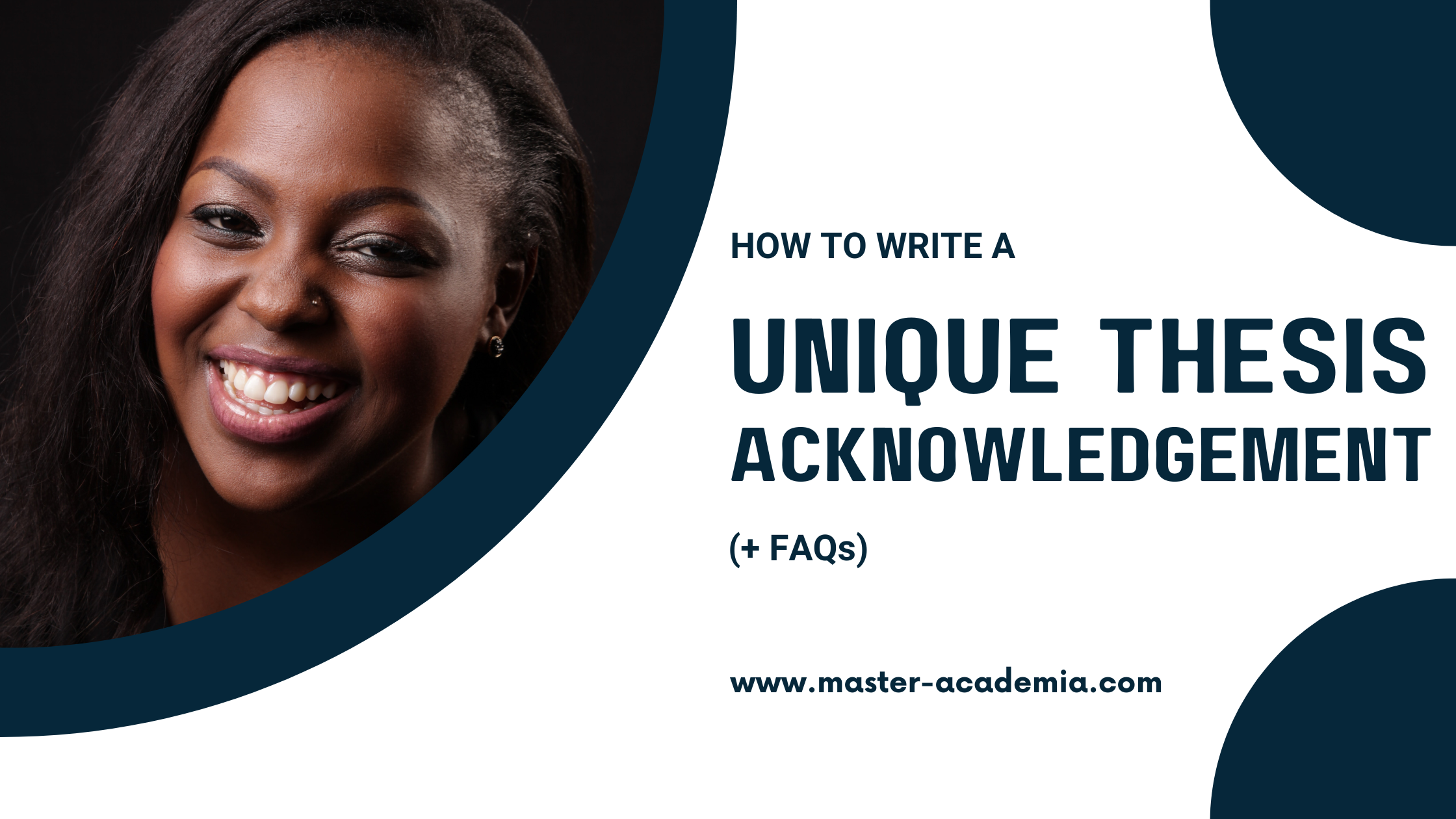 Crafting a thesis acknowledgement is typically one of the final steps in completing a thesis. This post aims to assist you in gaining insights and guidance by addressing common questions related to thesis acknowledgements. By doing so, it enables you to create a distinct and meaningful acknowledgment section that reflects your gratitude and appreciation.
Contents
What is a thesis acknowledgement?
A thesis acknowledgement is a special section commonly included at the beginning of a thesis or dissertation. In this section, the author of the thesis expresses gratitude and appreciation to individuals or groups who have contributed to the successful completion of their academic work. It is a way for the author to acknowledge the support, guidance, and assistance they received during the research and writing process.
Do I need a thesis acknowledgement?
While a thesis acknowledgement is typically not a mandatory requirement, omitting it might not be seen positively. Writing a thesis almost always involves some form of assistance or support, whether from a supervisor, family, or friends.
Acknowledging these contributions is not only considerate but also showcases your gratitude and reflects well on your character. Including a thesis acknowledgement demonstrates your appreciation for the help you received throughout your academic journey, underscoring the collaborative nature of research and academic pursuits.
In short:
Yes, it is strongly recommended to include a thesis acknowledgement.
Who should I thank in my thesis acknowledgment?
The thesis acknowledgement offers flexibility, but thanking your thesis supervisor/s is an absolute must—non-negotiable. It would be highly unusual to omit their appreciation.
Additionally, it's customary to thank those who contributed data, such as interviewees or survey participants. While listing every individual may be impractical, acknowledging their assistance shows respect and gratitude. If someone went above and beyond to help you establish contacts for your case study, it's worth mentioning.
Apart from these essentials, you have the freedom to thank anyone you desire. Common mentions include parents, partners, friends, peers, and colleagues. Some may even extend gratitude to pets or coffee! Injecting humor is acceptable, but maintaining a certain level of formality is advised, as explained in the subsequent section.
In short:
Acknowledging your thesis supervisor/s is a non-negotiable requirement.
Show appreciation to those who contributed data or support, like interviewees or survey participants.
Feel free to thank parents, partners, friends, and colleagues.
How to deal with a thesis supervisor with whom I had a challenging relationship in my thesis acknowledgement?
Regrettably, not everyone shares a positive relationship with their thesis supervisor. Nevertheless, it is important to acknowledge them in your thesis.
When doing so, maintain a concise approach while ensuring a respectful and diplomatic tone, refraining from any negative aspects or conflicts. Instead, emphasize the professional aspects of their contribution, such as supporting the development of the theoretical framework or providing valuable critical feedback that enhanced the quality of your work.
In short:
Acknowledge your thesis supervisor, even if your relationship was challenging.
Maintain a concise and respectful tone.
Focus on the supervisor's professional contributions.

How can I make my thesis acknowledgement uniquely personal?
Once you have decided whom to thank in your thesis acknowledgement, consider going beyond generic expressions of gratitude. Making your acknowledgements more personal and specific can make them truly special. Instead of simply thanking someone for their guidance and support, include examples that highlight the unique contributions of those individuals.
For instance, if you are thanking your fellow thesis writers, you can say something like: "Long study sessions at the library with John and Sabine made thesis writing a joyful experience." This demonstrates the specific way they contributed to your journey.
Similarly, if you had engaging conversations during walks in the park with someone, you can mention: "Our thoughtful discussions while strolling through the park were a crucial aspect of getting excited about my thesis topic."
By providing concrete examples, your acknowledgements become more heartfelt and memorable, showing the genuine impact of each person you thank.
In short:
If possible, make thesis acknowledgements personal and specific.
Include examples of how each person contributed uniquely.
Highlight specific interactions or experiences that made a difference in your thesis journey.
How formal should a thesis acknowledgement be?
While there are no strict rules for writing a thesis acknowledgement, it's essential to consider its significance as one of the first things readers encounter in your thesis. Therefore, maintaining a certain level of formality is advised.
Avoid including details of personal experiences like drinking excesses with friends or lavish parties to cope with thesis stress. Such content could create a negative impression and should be avoided.
Remember that your thesis is an academic work, and the acknowledgement should not detract from its academic merit. Focus on expressing gratitude to those who contributed to your academic journey in a professional and appropriate manner.
In short:
Keep a level of formality, as your acknowledgement section is one of the first things readers see.

To what extent should I express personal sentiments in my thesis acknowledgement?
People have different boundaries in terms of how open they are, and you should do what you feel comfortable with. But don't forget that your thesis will likely be a document open to the public. So make sure that you will be comfortable with the information out there, also 2, 5 or ten years from now.
That said, the thesis acknowledgement is there to showcase your human side and your gratitude for your loved ones. So don't hold back when you really want to thank someone deep from your heart.
And of course make sure that the information you reveal about the people you thank, they are also comfortable with it. You should not, for instance, describe your messy breakup with a person and even worse naming the person by name. Instead, you can write something more neutral in a way that people who know you well still know what you mean. For instance, you could thank your friends for always being there for you during challenging times, which you are grateful for.
In short:
Remember that your thesis is public, so ensure you'll be okay with the information long-term.
Thank people genuinely but avoid sharing sensitive or personal details about others.
How should I structure my thesis acknowledgement?
When writing a thesis acknowledgement, there are several acceptable ways to structure it, each serving its purpose. Three commonly used approaches stand out.
The first method is the chronological structure, typically employed in longer theses like PhD dissertations. In a chronological acknowledgement, you express gratitude to those who supported you throughout your entire thesis journey. For instance, you can start by thanking your supervisor for their guidance from the very beginning, then acknowledge the organizers of the PhD summer school you attended in year two, followed by appreciation for your friends who encouraged you during the challenging writing phase in year three, and so on.
The second approach involves structuring the acknowledgement based on the nature of relationships, ranging from formal to personal. Here, you begin by expressing thanks to your formal supervisors and professors who played a significant role in shaping your research, then move on to more informal yet professional mentors. Subsequently, you extend your gratitude to friends, family, and, if applicable, your partner or spouse.
The third common method is essentially the reverse of the second one, starting with personal relationships and ending with formal ones. In this arrangement, you begin by thanking your close friends and family members for their unwavering support, then move on to acknowledge professional mentors who contributed to your academic growth, and finally conclude the acknowledgement with appreciation for your thesis supervisor.
In short:
Thesis acknowledgements can be structured chronologically.
Thesis acknowledgements can be structured from formal to personal.
Thesis acknowledgements can be structured from personal to formal.
How long should a thesis acknowledgement be?
The general guideline is that the length of the thesis acknowledgement can vary depending on the length of the thesis itself. However, this doesn't imply that it must be excessively long.
For bachelor or master theses, the average length typically ranges from 100 to 250 words, equivalent to about half a page.
PhD thesis acknowledgements, on the other hand, tend to be longer, given the extended duration of PhD research. The average length for a PhD thesis acknowledgement ranges from 250 to 1000 words, or approximately half a page to 2 pages.
In short:
Bachelor's theses: usually 100-250 words
Master's theses: usually 100-350 words
PhD theses: usually 250 – 1000 words
Where is the thesis acknowledgement located?
The thesis acknowledgement is typically positioned right at the beginning of the thesis, following the title page and preceding the table of contents. This placement ensures that it remains distinct from the academic content of the thesis.
When formatting your document, it's advisable to insert blank pages to maintain a proper layout in the printed version, especially when double-paged printing is used. To achieve this layout, page 1 is reserved for the title page, page 2 is often left empty, and page 3 contains the thesis acknowledgement. Additionally, page four is frequently left blank as well. This arrangement enhances the reading experience of the printed version and provides a more polished appearance to the document.
In short:
The thesis acknowledgement is typically placed at the beginning of the thesis, after the title page and before the table of contents.
Leaving empty pages, such as page 2 and often page 4, helps in maintaining a visually pleasing layout, when double-sided printing is used.

Where can I find examples of thesis acknowledgements?
Many universities maintain thesis repositories, providing students access to previous years' theses. This serves a twofold purpose: firstly, it helps students gain clarity on the university's expectations, preferred style, and required length for a thesis. Secondly, it offers a valuable opportunity to explore a diverse array of thesis acknowledgements, serving as a source of inspiration for crafting one's own acknowledgment section.
In addition to utilizing the university's repository, I have created five examples of PhD thesis acknowledgements that you can review for further guidance and ideas.
In short:
Check your university's thesis repository.
Find five PhD thesis acknowledgement examples here.