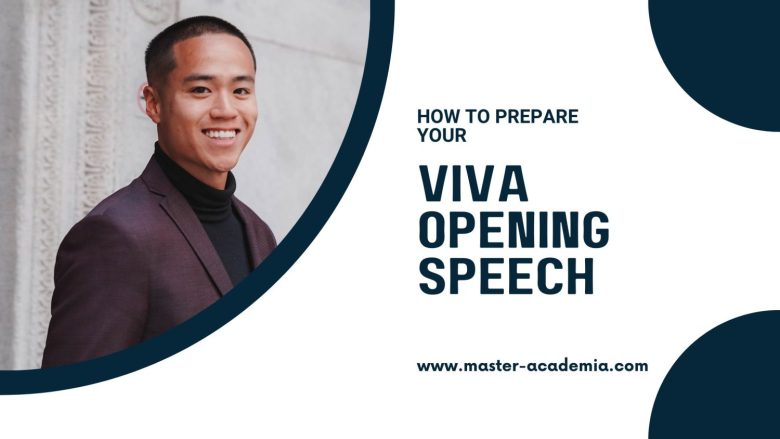 A viva, or PhD thesis defence, typically starts with an opening speech by the PhD candidate. This opening speech can be prepared in advance. How? By following six simple steps that take you from checking university requirements, to structuring and practising your viva opening speech.
Contents
What is a viva opening speech?
Submitting a PhD thesis feels like a major milestone. And it is! But before being able to call themselves a 'doctor', most PhD students have to defend their thesis. And this thesis defence, or viva, tends to start with an opening speech.
A viva opening speech is a short presentation of the PhD thesis by the PhD candidate. It typically lasts between 10 and 30 minutes and kicks off the PhD defence during which the candidate has to answer questions from the examiners.
Questions from examiners are relatively unpredictable. A viva opening speech, however, can be prepared and practised in advance! Therefore, it constitutes a major part of getting reading for a PhD thesis defence.
Step 1: Check the requirements for your viva opening speech
Different universities have (sometimes vastly) different requirements for viva opening speeches. So, unfortunately, there is no one-size-fits-all advice.
Therefore, the first step to preparing a viva opening speech should always be to find out the specific regulations of your university.
Common factors to consider are the following:
The length of the viva opening speech. Whether you have to prepare a 10-minute or a 30-minutes presentation matters considerably.
The use of a (PowerPoint) presentation. Some universities require presentation slides. Others don't. Make sure to follow all requirements or customary standards.
The focus of the speech. Some universities explicitly ask for a summary of the whole PhD thesis. Others may prefer several key findings, or arguments to kick off the discussion.
The target audience of the speech. Find out who you are supposed to address in your speech. More on this in Step 2!
Some information is easy to find. Some isn't. Always talk to your PhD supervisor/s! PhD supervisors will know about the university requirements, can share their experiences and guide you in the right direction.
Step 2: Define the audience for your viva opening speech
Once you are aware of your university's regulation concerning viva opening speeches, it is smart to think a bit more about the target audience of your speech.
The target audience for your viva opening speech will influence the level of detail in your presentation, the complexity of the information, and the language and terminology you will use.
In the UK, for instance, the thesis defence usually involves only the examiners and the candidate. Thus, the viva opening speech will be directed at the examiners, who have all read the PhD thesis in advance and are experts in the candidate's research field.
In contrast, in the Netherlands, for instance, PhD defences are public events. Viva opening speeches during these public events are used to share the focus of the thesis in simple language with the audience. The audience is usually family, friends and colleagues. Examiners are not even present during the speech.
Step 3: Develop key messages for your viva opening speech
Now it is time to brainstorm about the content of your viva opening speech! One harsh truth is that you simply cannot include everything. Summarising the work of 3, 4 or more years in a few minutes is incredibly challenging. You have to be selective. You have to summarise, abstract and prioritise.
The key messages for your viva opening speech should be in line with the nature of your PhD thesis. For those who have read your PhD thesis in advance, the content of your viva opening speech should not come as a surprise.
For instance, if you wrote a very theoretical PhD thesis, it makes no sense to focus your whole speech on your data collection and analysis. Instead, it makes more sense to emphasise the theoretical contributions of your PhD.
Step 4: Structure your viva opening speech
Next up, you should structure your viva opening speech: Breaking up the key messages into concrete parts helps you to develop a logic and convincing storyline.
Common ways to structure viva presentations are around the table of contents of the PhD thesis, around key findings, key arguments, or around case studies.
Finding the right structure for your opening speech is so important that I wrote a whole post on how to structure your viva presentation, including examples of different viva presentation structures.
Step 5: Create visual support for your viva opening speech
As in every speech or presentation, visual support can be helpful. Therefore, if you are allowed to use PowerPoint slides or other forms of visual support for your viva opening speech, it is sensible to make use of this opportunity.
As with regular presentations, avoid too much text on slides. Instead, make strategic use of images, photographs, figures or diagrams to develop your storyline and bring your points across.
Step 6: Practice your viva opening speech
Finally, practice your viva opening speech! If your target audience is the thesis examiners, present your speech to your supervisor/s or fellow PhD students. Ask them for feedback and use it to improve your speech.
If the target audience is the general public, present to family members or friends outside of academia. Do they understand what you are talking about? Can they follow your storyline?
You should practice your viva opening speech up to the point that you can present freely, without reading from your notes. However, don't learn the whole speech by heart. It is always noticeable if someone just recites text, and it will make you sound like a robot.
Lastly, when you practice make sure to keep a timer at hand. Most viva opening speeches have to adhere to a strict time limitation, and will simply be cut off if they exceed the given time. You don't want this to happen on your big day! So make sure to practice sticking to your time.