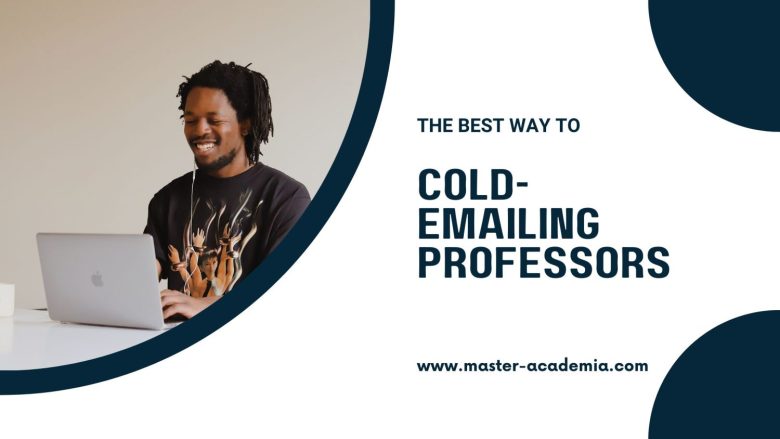 Cold emails tend to have a bad reputation. However, there are several good reasons to cold email professors. And a proper way to write cold emails can increase your chance of receiving a reply. Find out more about cold emails in academia, as well as alternative strategies to connect with professors without prior contact.
Contents
What is cold emailing?
Cold emailing means contacting someone – via email – without any prior contact. Thus, getting in touch with someone who does not know you. And who did not ask you to get in touch, or expects you to get in touch, either?
You might be more familiar with cold calling, where you call someone 'out of the blue'. Cold emailing is less intrusive than cold calling, as the receiver can simply ignore your request.
Nonetheless, opinions on cold emailing differ vastly. Some see it as a great way to connect with people and to network. Others consider cold emailing as rude, or even a form of stalking.
Whether or not cold email in academia is good or bad is hard to answer. Even personal opinions on cold emails differ vastly. You might be successful with some professors, and unsuccessful with others.
Reasons to cold email professors in academia
There are occasions when cold emails might be the only way to get in touch with someone. The most common reasons to cold email professors in academia are:
Requests for thesis supervision. Many cold emails centre around thesis supervision. This can involve master thesis supervision (though to a lesser extent), and PhD supervision. In terms of the latter, requests are often combined with an inquiry about job or scholarship opportunities.
Inquiry about job opportunities. Individuals who want to continue their studies at the PhD level, and have a specific institution and supervisor in mind, often revert to cold emails. Similarly, PhD students who are near the end of their dissertation might reach out to professors to inquire about postdoctoral and other academic positions.
Inquiry about internship opportunities. In recent years, it has become much more common for students in undergraduate and graduate programmes to do research internships at academic institutions. Sometimes, these are 'internships abroad. Cold emails often inquire about research internship opportunities ranging between a few weeks and several months.
Requests for collaboration, for instance in a grant proposal. In a competitive job market with limited job opportunities, acquiring grants to create new positions has become a popular strategy. Furthermore, grant proposal writing can bolster early career researchers' academic CVs. Many grant proposals involve a team of researchers, and cold emailing can be a strategy to approach 'big names' from your discipline without having had any prior contact.
Request for participation in a seminar, panel or roundtable discussion. In line with the quest for establishing all-round academic profiles, organising seminars, panels or roundtable discussions, but also webinars or podcasts is a common academic activity next to research and teaching. Frequently, cold emails invite professors to participate in these types of activities.
How to cold email professors
The success of cold emails can depend on the format and content of the email. The key is to keep it short, formal and to the point.
Imagine a professor receiving 50-100 emails per day. They will not read an email that is 2000 words long to figure out who you are and what you want. Therefore:
Develop a crystal clear email subject (For example: "Exploring internship opportunities in your research group", "Invitation to participate in the roundtable discussion", "Exploring opportunities for PhD supervision"…)
Formal salutation ("Dear Professor Dr. …, " instead of "Hey John")
Short introduction of who you are (And I mean short. For instance: "I am a third-year PhD student at Georgetown University, specialising in forensic sciences. For further information on my work, please find my resume attached." Attach your resume if you look for supervision, job or research opportunities.)
Purpose of your email (Reiterate the purpose of your email, as stated in the subject line. Specify why you contact them specifically, and make it personal. You don't want to make the impression as if you are sending generic emails to hundreds of people. Furthermore, if you reach out to inquire about supervision, collaboration or participation in an event or activity, provide a very short summary, and attach a more elaborate 1-page summary to your email.)
Action points (Specify what you want from the email recipient: A response on whether they are interested in your proposal or not? A confirmation of participation? To set up a short meeting? Etc.)
And finally, a bonus tip: Very often, the recipient might be interested in your proposal but needs to know the financial situation behind your plan or suggestion. Providing this information from the get-go shows that you are aware of this point and can avoid lengthy email conversations:
Financials (Provide some brief information on questions such as: Did you already secure funding for a PhD, or are you looking to apply to specific grants and scholarships once you find a supervisor? Are you looking for a paid or unpaid internship? When organising in-person events, are you able to cover for instance travel costs? Etc.)
Circumstances to consider when cold emailing
We all know that academics tend to be very busy, juggling many different tasks. Be aware of teaching-heavy periods, which may delay responses to your cold email. If you do not face time pressure with your request, it could be an idea to check the academic calendar of the institution where your email recipient is based. Are there for instance teaching-free exam weeks? Emailing within those periods could be an advantage.
Furthermore, be aware that prominent professors with a lot of publications are likely to receive many cold emails. And they are likely to have, for example, already many PhD students to supervise. You might have a better chance of cold emailing lecturers/assistant professors or senior lecturers/associate professors.
Lastly, even if you write the perfect cold email, the chance is still quite high that you simply don't get a response. So, don't be too disappointed if that happens. Send a friendly reminder when you do not hear back within two weeks. But if there is still silence, it is probably best to let it go and look elsewhere.
Alternatives to cold emailing
Establishing connections via your network might lead to higher success than cold emailing. If possible, ask around in your environment (your colleagues, course lecturers, professors) if anyone knows the person you want to contact. If yes, kindly ask for an introduction.
If you feel uncomfortable just randomly asking around in your current environment, check if the person you want to contact us on LinkedIn. Do you have mutual connections? Consider reaching out to kindly ask for an introduction.
Furthermore, some words of caution: Cold emailing – even if successful – can have substantial drawbacks. For instance, the quality and quantity of supervision and the relationship between the supervisor and PhD student are crucial factors when it comes to finishing a PhD successfully. Simply because a professor is a leading figure in a discipline, and you admire their academic work, does not mean that you will get along on a personal level.
Organising a small, concrete activity such as a seminar, discussion session or webinar has two advantages. First, you can contact someone with concrete and time-limited ideas, which increases the chance of receiving a response as you have something to 'offer'. Second, a short activity that requires communication and collaboration can help you decide whether you get along, and would want to work with that person for an extended period.