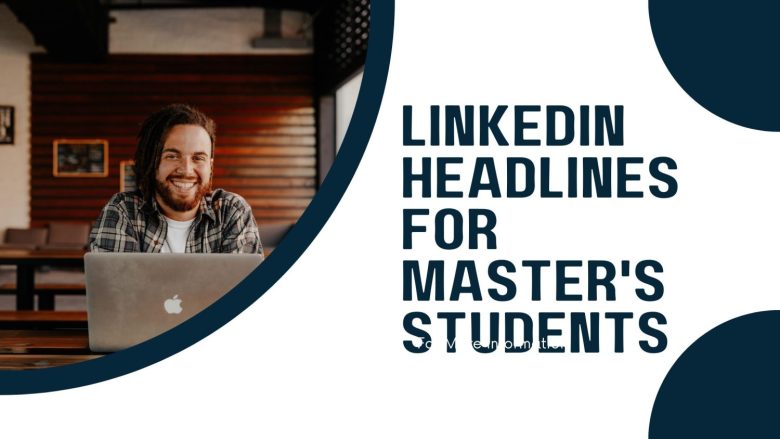 LinkedIn headlines matter: what you include in the headline tends to be people's first association with your name on the platform. Master's students can benefit from effective LinkedIn headlines if they know what elements to include and what to avoid.
Contents
Why LinkedIn headlines are important for master's students
A LinkedIn headline is a 220-character section right under your profile picture on LinkedIn.
LinkedIn headlines are extremely important for establishing a network and for personal branding, which are essential for master's students in the preparation for entering the labour market.
A LinkedIn headline is the only text that appears next to one's name and profile picture in numerous instances, including
LinkedIn searches,
LinkedIn job applications,
private messages,
connection requests,
when featured in someone's 'people you may know' suggestion,
when featured in someone's 'people also viewed' suggestions.
In short, a LinkedIn headline is a sort of digital business card.
Furthermore, when someone googles your name, your LinkedIn profile shows up in the results with – guess what? Your LinkedIn headline as a preview.
The three main reasons why master's students should have an effective LinkedIn headline are the following:
To build a professional network: No one is going to accept your connection request if they don't know who you are and what you do. And if they cannot figure out why you would try to connect with them.
To support your job hunt: Whether you are looking for internships, traineeships, or a full-time job: it should be immediately visible to potential employers who you are and what you are looking for.
To be visible to recruiters: Nowadays, a lot of headhunting happens via LinkedIn. If you are (soon) looking for a position anyways, why not increase your chance to be contacted by a recruiter?
Elements of effective LinkedIn headlines for master's students
Your student status
As a master's student, you are, well, a student. Thus, it makes sense to include it in your LinkedIn headline. However, just writing that you are a student – even if you add the university – is not very informative. Unfortunately, it is very common: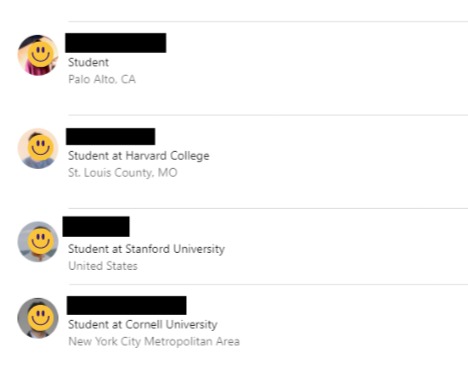 Thus, indicate what you are studying, and at what level. For instance, you can be a MA Art History student, MSc Applied Physics candidate or a Master's Student in Psychology.
Your current work
If you work next to your studies, it can be worth including in your LinkedIn headline as well. However, always critically reflect on whether you want to highlight a job or not.
For example, it won't be beneficial to emphasise your part-time gig as a babysitter or bartender when your ultimate goal is to work in banking…
Your focus area
Next, think about your focus area, key skills and expertise. Even if you indicate that you are a Law student, it is much more informative if you emphasise your focus on criminal or family law.
This element can also be forward-looking, indicating for instance the type of law that you want to make the focus of your career.
Your ambition
And lastly, be clear about what you are looking for. If you are looking for a job that is. This can be an internship, entry-level position, senior CFO position, etcetera.
Spell it out: you want to appear in the search results if someone looks for people searching, for instance, an internship.
What to avoid in LinkedIn headlines as a master's student
As explained above, do not just write 'student' as your one-word LinkedIn headline.
Similarly, do not write 'unemployed'. Even if you don't have a paid job as a student, you are not unemployed. Being a student is your occupation.
Don't list unrelated jobs, such as being a babysitter or bartender, if they are disconnected from your professional goals.
Don't make grammar or spelling mistakes. When in doubt, use a spell and grammar checker like Grammarly.
Avoid long sentences. It is better to use keywords, separated by vertical bars.
Do not only use capital letters (NO SCREAMING PLEASE!)
Be careful with the use of emojis. When in doubt about whether emojis in your LinkedIn headline is professional enough, simply don't risk it.
Don't lie. Don't be too humble but also don't inflate your skills or lie about your positions. It will most certainly backfire.
Example LinkedIn headlines for master's students
Now that we know why LinkedIn headlines are important, what to include and what to avoid, let's look at some good examples.
The first fictional master's student Valeria studies Clinical Psychology. She clearly emphasises her focus on autism and early childhood development, which is important as clinical psychology is a vast field of study and practice. Furthermore, she states what she is looking for and where:

The second fictional master's student Boris follows a similar setup: describing his degree programme, indicating where he studies, mentioning his key interests, and specifying that he is looking for an entry-level position in a specific sector:

The third fictional master's student decided to indicate her graduation date. She is looking for a PhD position and specifies her target area, which is related to nano electronic materials:

The last example showcases the LinkedIn headline of fictional master's student Carlos. In contrast to the previous headlines, Carlos included his current position as an intern. Looking at the keywords in his headline, this makes sense as the position is related to finance and can increase his chance of finding a traineeship in FinTech, which he is looking for: