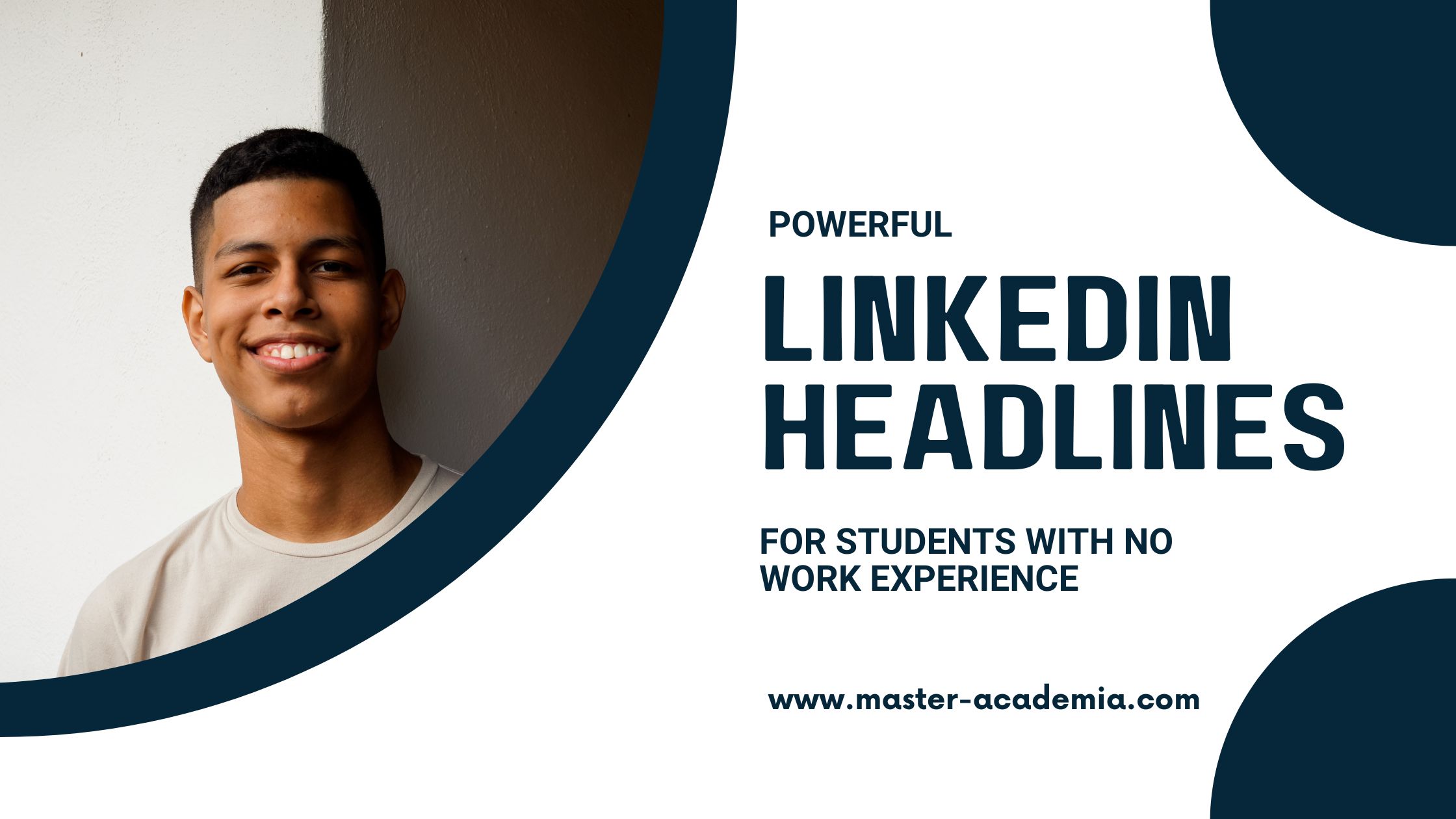 We all begin our professional journeys from somewhere, and as a student, it's completely reasonable not to have formal work experience. Being a student doesn't mean you should underestimate your potential. Learn how to craft compelling LinkedIn headlines that can help you build your network and search for jobs or internships, even if you lack professional experience, and get inspired by four examples.
Contents
Why you should develop a LinkedIn profile as a student (even with no work experience)
Creating a profile on a professional network like LinkedIn may seem daunting if you have no prior work experience. However, it can be an invaluable tool to connect with others and find work opportunities.
Building a LinkedIn network takes time, so it's a good idea to start early. During your studies, it's an excellent time to start developing your LinkedIn profile.
LinkedIn is a major platform for networking and job hunting. It's also where recruiters can discover you, potentially opening up exciting job opportunities.
Even if you're unsure about your post-graduation plans, gradually expanding your network is important. Your classmates are a good starting point, and you can grow your connections from there. After all, at some point, you'll all move on to start your professional lives.
If you're seeking your first job, internship, or traineeship, having a well-crafted LinkedIn profile – including a powerful LinkedIn headline – that effectively represents who you are online becomes even more crucial.
Why LinkedIn headlines matter for students, especially without work experience
LinkedIn headlines are short descriptions or summaries of your profile (max. 220 characters), which appear under your name and next to your profile picture on the platform.
The LinkedIn headline is the first thing people see when they visit your profile. It is also the only element that shows up in all search results and is visible to other platform members, even if you are not connected to them.
The LinkedIn headline is important for several reasons. It is very common for employers to perform a quick Google search of job candidates, and the LinkedIn profile with the LinkedIn headline is typically one of the first results that appears.
Additionally, the LinkedIn headline is crucial for individuals who are searching for new connections on the platform based on a specific topic or theme. Therefore, including your interests in the headline is essential.
Lastly, headhunters on LinkedIn also need to conduct searches for individuals who meet certain job criteria. Thus, once again, the LinkedIn headline serves as a set of keywords that assist recruiters in finding suitable candidates.
Thus, especially if you do not have any prior work experience, a well-crafted LinkedIn headline is essential to effectively convey your background, interests, and ambitions.
You may also like: Effective LinkedIn headlines for master's students (+ examples)
What to include in LinkedIn headlines with no experience
First, let's clarify what "no experience" actually means. Typically, it signifies that you do not possess formal professional work experience, such as a prior job contract or completed internships.
However, it's important to note that "no experience" does not equate to having no experience at all. In fact, being a student is an experience in itself. Therefore, you can and should highlight this experience in your LinkedIn headline, along with the following elements:
Your study program or degree that you are pursuing: Simply indicating that you are a student is not enough because it leaves people wondering what you're studying. To provide more informative details, specify the program you are following and the degree you are pursuing.
Your university: Mentioning your university in the LinkedIn headline is optional and may depend on the length of other information you include. However, including your university can positively impact your profile, especially if people recognize and have positive associations with that institution.
Your focus area: Even within a study program, there can be various specializations or focus areas. For instance, if you are pursuing a BSc in Psychology, you may have a focus area like Environmental Psychology, Early Childhood Mental Health, or Criminal Justice. Thus, be as concrete as possible in terms of your focus, major, specialization or interest.
Your ambition: If you are actively using LinkedIn to search for a job or internship, make it known in your LinkedIn headline. Let people know about your career goals and aspirations.
Examples of powerful LinkedIn headlines of students with no work experience
Different ways of crafting a distinctive LinkedIn headline become clearer as we analyze the following examples. Take, for instance, the profile of the first student, Emily Johnson. She is not actively seeking a job or internship at the moment. Her headline effectively communicates her status as a bachelor's student in Comparative Literature, mentions her university affiliation, and highlights her primary areas of interest: Literary theory and Translations."

The second student, Daniel Anderson, offers the same information (his degree program, university, and interests) but adds a specific detail: he mentions that he is actively seeking a summer internship in the non-profit sector. What he does well is clearly defining his internship objective.

The third example is that of student Benjamin Mitchell. He chooses to define himself as a mathematics candidate, mentions his university, and underscores his specialization by including the word 'specialization' in the description. Additionally, he communicates to his network that he is open to entry-level opportunities.

Lastly, we have Olivia Parker, an undergraduate Chemistry student at the University of Toronto, who explicitly highlights her interests in organic synthesis and specifies her active search for internships.

In the end, every LinkedIn headline should reflect your individual situation and goals. However, what should become evident from these examples is that you shouldn't hesitate to create a LinkedIn profile even if you lack prior work experience.
These sample LinkedIn headlines demonstrate that, as a student, you can craft an impactful LinkedIn headline even before securing your first job, internship, or traineeship.