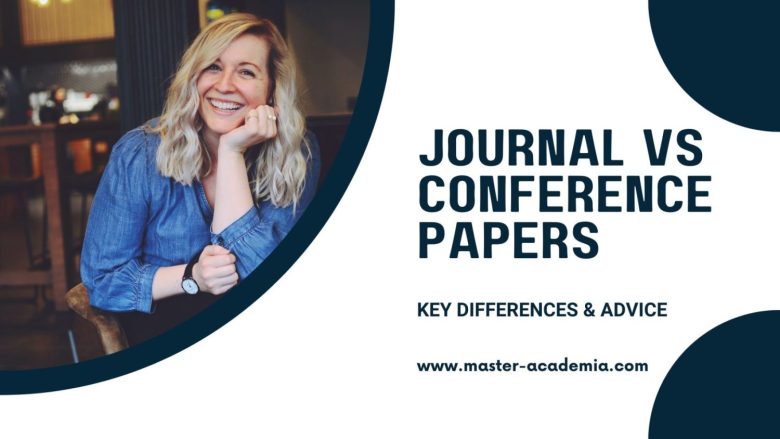 Journal and conference papers are not the same, and both formats have advantages and disadvantages. A good understanding of the key differences between journal and conference papers avoids pitfalls, such as copyright issues when wanting to turn a conference into a journal paper at a later stage.
Disclosure: This post may contain affiliate links, which means I may earn a small commission if you make a purchase using the links below at no additional cost to you. I only recommend products or services that I truly believe can benefit my audience. As always, my opinions are my own.
Contents
What is a journal paper?
A journal paper is a written piece of academic work – presenting empirical research, a theoretical discussion, or both – published in an academic journal. Most journal papers or articles are peer-reviewed, meaning they undergo a rigorous review process involving several stages and rounds of revisions before they are published.
Most academic journals have an impact factor, which is an index calculated based on the number of citations of articles published within a specific journal. The higher the impact factor of a journal, the wider the (potential) reach of journal papers that it publishes. And the better the reputation of the journal.
Therefore, authors of journal papers tend to target journals with a high impact factor to publish their work. There are other criteria that play a role when selecting a journal to publish research. However, the impact factor remains a crucial one, as publications in high-impact factor journals strongly influence academic promotions.
What is a conference paper?
A conference paper is a piece of academic work that is specifically written for an academic conference, and mostly accompanies a conference presentation. While there are some exceptions, most conference papers are not peer-reviewed.
Conference papers are usually submitted several weeks before the actual conference, and circulated among conference participants in preparation for the actual presentations. However, not all conferences require conference papers. And some conferences make the submission of a conference paper optional.
Many conferences that require or allow the submission of a conference paper have 'best conference paper' awards, rewarding outstanding submissions. Furthermore, some conferences publish a collection of conference papers after the event, in the so-called conference proceedings. Many conference proceedings do not have an impact factor.
If you are looking to elevate your writing and editing skills, I highly recommend enrolling in the course "Good with Words: Writing and Editing Specialization", which is a 4 course series offered by the University of Michigan. This comprehensive program is conveniently available as an online course on Coursera, allowing you to learn at your own pace. Plus, upon successful completion, you'll have the opportunity to earn a valuable certificate to showcase your newfound expertise!
Advantages and disadvantages of journal and conference papers
The choice between a journal or a conference paper should be a careful one. Both formats fulfill important but different roles in academia. Therefore, a good understanding of the benefits and drawbacks of both formats can help to make an informed decision.
Please notice that the following points are developed from a social sciences perspective. Other fields and specific disciplines may have different standards.
Advantages of journal papers
Journal papers are more prestigious in academia. Especially if you strive for an academic career, publishing peer-reviewed journal papers in high-impact journals should be your priority.
Journal papers are more frequently cited than conference papers. Journal impact factors are not the only metric that strongly influences academic promotions: The so-called h-index is a metric that measures your 'impact' in terms of how often your publications have been cited. And journal papers are cited more often than conference papers, as they are considered more reputable.
Journal papers undergo revisions, which often means they are of higher quality. Due to the rigorous peer-review process that most journal papers are subjected to, the quality of journal papers tends to be better than that of conference papers. During peer review, experts on a topic point out flaws in the draft paper, challenge your thinking and provide suggestions for improvement. While dealing with peer review comments can be a tedious process, the final result is often a much better paper compared to the initial manuscript.
Disadvantages of journal papers
Publishing a journal paper takes time. The whole process from manuscript to published paper can be lengthy, and take from anywhere between several months to several years.
Most journals do not publish preliminary results. Even if you make a groundbreaking discovery in your preliminary analysis, most journals will not consider it worthy of a publication before more final conclusions can be drawn.
There is a risk of outdated data in journal papers. For instance, if you want to publish your academic work to contribute to a current societal discussion, a journal paper may not be the best option. In the worst case, the publishing process takes more than a year and by the time of publication, your data may be outdated. Furthermore, your conclusions may be irrelevant for practice as a lot can change in a year.
Journal papers have to follow strict rules set by journals. Journals set, for example, rules in terms of length, structure, or reference style that have to be followed. Conference papers, on the other hand, are often more flexible.
Advantages of conference papers
Conference papers tend to have a lower threshold of acceptance than journal papers. It is much easier to publish a conference paper in conference proceedings than publish academic work in a high-impact journal. Therefore, conference papers can be a valuable option to learn about paper writing and publishing, and an easier way for early career researchers to get their name on a publication.
Conference papers are published relatively fast. Some conference papers undergo peer review before being published in conference proceedings, but many don't. In general, conference proceedings are published relatively soon after the actual conference takes places. Thus, a conference paper can be a good way to publish fast.
Conference papers can discuss ongoing research and preliminary results. Contrary to journal papers, conference papers often address ongoing research and tentative conclusions. Furthermore, the format tends to be more open than in journal papers, providing authors of conference papers more freedom in terms of content and structure.
Conference papers can often compete for 'best conference paper' awards. And having such an award to your name certainly looks good on your academic CV!
Disadvantages of conference papers
Conference papers do not count as much as journal publications for career advancement. This is because many conference papers are not peer-reviewed and because many conference proceedings do not have an impact factor. Thus, in terms of career promotion or trajectories, conference papers are less relevant than journal papers.
Conference papers can create copyright issues. It is a very common scenario: an author writes a conference paper first, then makes some edits and submits it to an academic journal for publication. If the conference paper has been published in conference proceedings, it will likely be flagged as plagiarised by the journal. Journals do not like to publish articles which have been published elsewhere in a similar fashion, and some use any indication of plagiarism (even if it is self-plagiarism) as a reason to desk-reject a manuscript.
Sharing great ideas prematurely in a conference paper can make you vulnerable. Unfortunately, there is a lot of competition in academia, and not everyone plays by the rules. Therefore, you should always carefully consider how much of your work you share, without linking it to a publication of your own. Sharing an excellent idea that is sent around to hundreds of conference participants creates a risk that someone copies or steals your idea or approach, and tries to publish it faster in a journal article than you do.
Differences between journal and conference papers
Based on the discussion of the advantages and disadvantages of journal and conference papers above, the following key differences come to light:
Content and requirements: Conference papers are more open to include preliminary results and are more flexible in terms of requirements than journal papers. The target audience of conference papers are conference participants, while journal papers target the wider academic community.
Submission and peer review process: Journal papers tend to be submitted via an online system and undergo a structured peer review process. Conference papers are often simply sent to the conference organisers by email and are not peer-reviewed.
Time to publication: Conference papers are often published more quickly in conference proceedings than journal papers are published in academic journals.
Career relevance: Journal papers are much more relevant for academic careers than conference papers. Most journals have impact factors, while most conference proceedings do not have impact factors.
Questions to ask yourself before submitting a conference paper
Even though journal papers are more important for academic promotions, submitting a conference paper is not per se the wrong choice. A 'best conference paper' award, for instance, can make you stand out when applying for academic jobs.
When embarking on writing a conference paper, it is better to be safe than sorry: At times, it may require reaching out to conference organisers or target journals to make sure that you will not run into copyright or plagiarism issues at a later point.
Oftentimes, conferences still allow you to present even without submitting a conference paper. Or you can ask the conference organisers not to include your paper in the conference proceedings. Furthermore, some journals are okay with publishing a paper that has been published in a conference proceeding earlier. Just make sure to ask in advance to prevent bad surprises!
Thus, when considering a conference paper, first answer the following questions:
What are the benefits of submitting a conference paper to the specific conference, and do they outweigh the drawbacks?
How can I mitigate the drawbacks? (Would my conference paper be published in the conference proceedings and can I opt out? Can I participate in the conference without a conference paper?)
Do I share too many original ideas in my conference paper, which someone could copy without referring to my work as I haven't published on the topic yet?
Could I face copyright issues if I want to turn my conference paper into a journal paper at a later point?
Frequently Asked Questions
Is conference paper better than journal paper?
In academia, journal papers are considered 'better' than conference papers because they have a stronger positive impact on academic careers. Reasons for this are the more rigorous peer-review process that journal papers tend to undergo before publication, the higher standards of journals compared to conference proceedings, and the impact factor of journals.
Can you use a conference paper in a journal?
You should never simply submit a conference paper to a journal without making substantial edits beforehand. That said, it is okay to use similar data or arguments. If your conference paper has been published in conference proceedings, it is best to inform the journal about it in your letter to the editor, which accompanies your journal paper submission. Otherwise, it may be flagged as plagiarised and immediately desk-rejected by the journal editors before it even has the chance to enter the peer-review process.
Are all conference papers automatically published in conference proceedings?
Not all conference papers are automatically published in conference proceedings. Different conferences have different rules when it comes to publishing papers in conference proceedings. Therefore, you should check the rules and procedures of a specific conference in advance. If you cannot find the information online, you can send an email to the conference organisers. You can also always ask if it is possible to present without submitting a conference paper or to not have your conference paper published in the conference proceedings.
Do conference papers count as publications?
Conference papers often do not count as academic publications. Therefore, on academic CVs, conference papers tend to be listed under 'Conferences' instead of 'Publications'. Alternatively, they are listed as a separate sub-category under 'Publications', but in a way that they are clearly differentiated from other (peer-reviewed) publications.